THE MIRROR EMPIRE  is a stunning new epic fantasy from two-time Hugo Award winner Kameron Hurley.
On the eve of a recurring catastrophic event known to extinguish nations and reshape continents, a troubled orphan evades death and slavery to uncover her own bloody past.As the dark star of the cataclysm rises, an illegitimate ruler is tasked with holding together a country fractured by civil war; a precocious young fighter is asked to betray his family to save his skin; and a general must choose between the eradication of her father's people or loyalty to her alien Empress.
Through tense alliances and devastating betrayal, the Dhai and their allies attempt to hold against a seemingly unstoppable force as enemy nations prepare for a coming together of worlds as old as the universe itself.
 In the end, only one world will rise – and many will perish.  
Read more:
Which MIRROR EMPIRE character are YOU? (take the quiz!)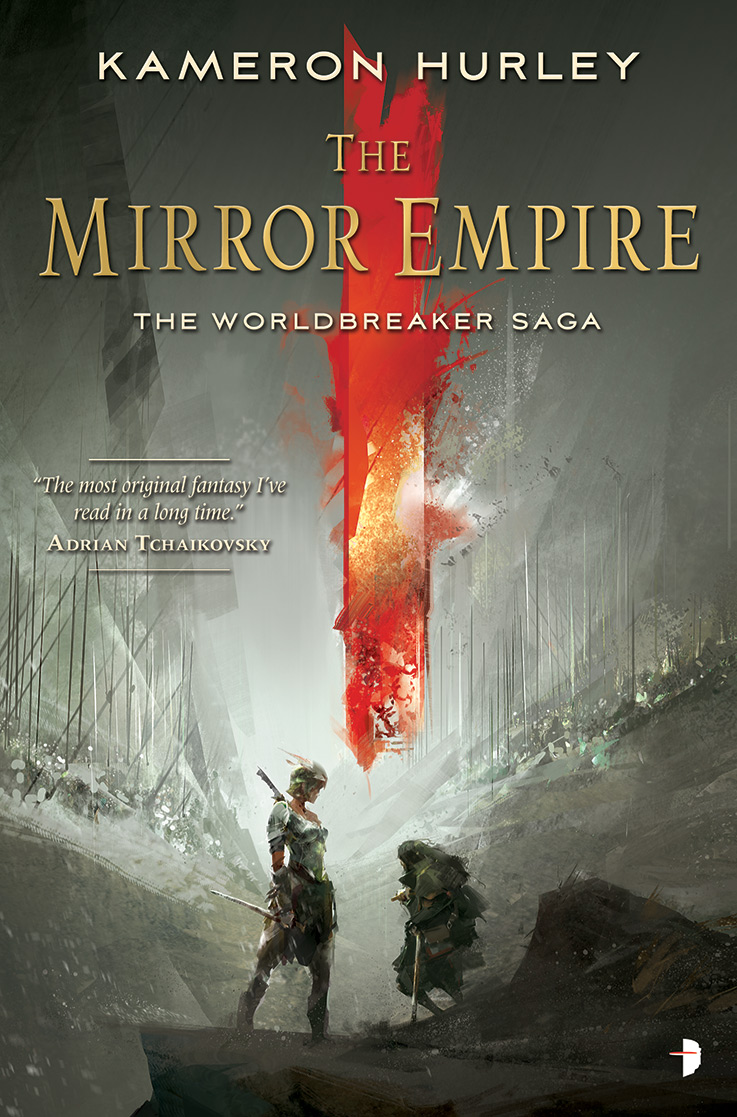 What people are saying about MIRROR EMPIRE…
"Hurley reuses old tropes to excellent effect, interweaving them with original elements to create a world that will fascinate and delight her established fans and appeal to newcomers. Readers will blaze through this opening installment and eagerly await the promised sequel."
– Publishers Weekly (Starred Review)
"This is a hugely ambitious work, bloody and violent, with interestingly gender-flipped politics and a host of factions to keep straight, as points of view switch often. Although it is a challenging read, the strong narrative thread in this new series from Hurley (God's War) pulls readers through the imaginative tangle of multiple worlds and histories colliding."
– Library Journal (Starred Review)
"With vividly inventive world building and a fast-paced plot, The Mirror Empire opens a smart, brutal, and ambitious epic fantasy series. Book two is already on my must-read list."
– Kate Elliott, author of the Spiritwalker Trilogy
"There's a powerful yet elegant brutality in The Mirror Empire that serves notice to traditional epic fantasy: move over, make way, an intoxicating new blend of storytelling has arrived. These are pages that will command your attention."
–Bradley P. Beaulieu, author of The Lays of Anuskaya trilogy
"The Mirror Empire is the most original fantasy I've read in a long time, set in a world full of new ideas, expanding the horizons of the genre. A complex and intricate book full of elegant ideas and finely-drawn characters."
– Adrian Tchaikovsky, Gemmel Legend Finalist and author of The Shadows of the Apt series
"Taking epic fantasy down challenging and original paths. Thoughtful and thought-provoking with every twist and turn."
–Juliette E McKenna, author of the Hadrumal Crisis series
"For me it did all the things a fantasy should do — holding our own societies up to the light by reflecting off worlds that are very different. Add in a magic system where the users are only powerful some of the time, and semi sentient vegetation that is possibly more of a threat than the magic users, and I happily sank into this book with a satisfied sigh."
–Francis Knight, author of Fade to Black
Praise for Kameron Hurley:
"Kameron Hurley's a brave, unflinching, truly original writer with a unique vision–her fiction burns right through your brain and your heart." – Jeff VanderMeer, NYT Bestselling author of The Southern Reach Trilogy
 "Kameron Hurley is ferociously imaginative – with the emphasis on the ferocious. She writes novels that are smart, dark, visceral and wonderfully, hectically entertaining."
– Lauren Beukes, author of Zoo City and The Shining Girls

"Kameron Hurley's writing is the most exciting thing I've seen on the genre page… What Hurley's writing has (and it's something not one in a dozen genre practitioners seems able to generate) is passion. It doesn't hurt that there's also a rare freshness to the material, and a heady dash of high octane noir worked into the mix."
– Richard K. Morgan, author of The Steel Remains and the Takeshi Kovacs novels
——————————
COMING OCTOBER 6th, 2015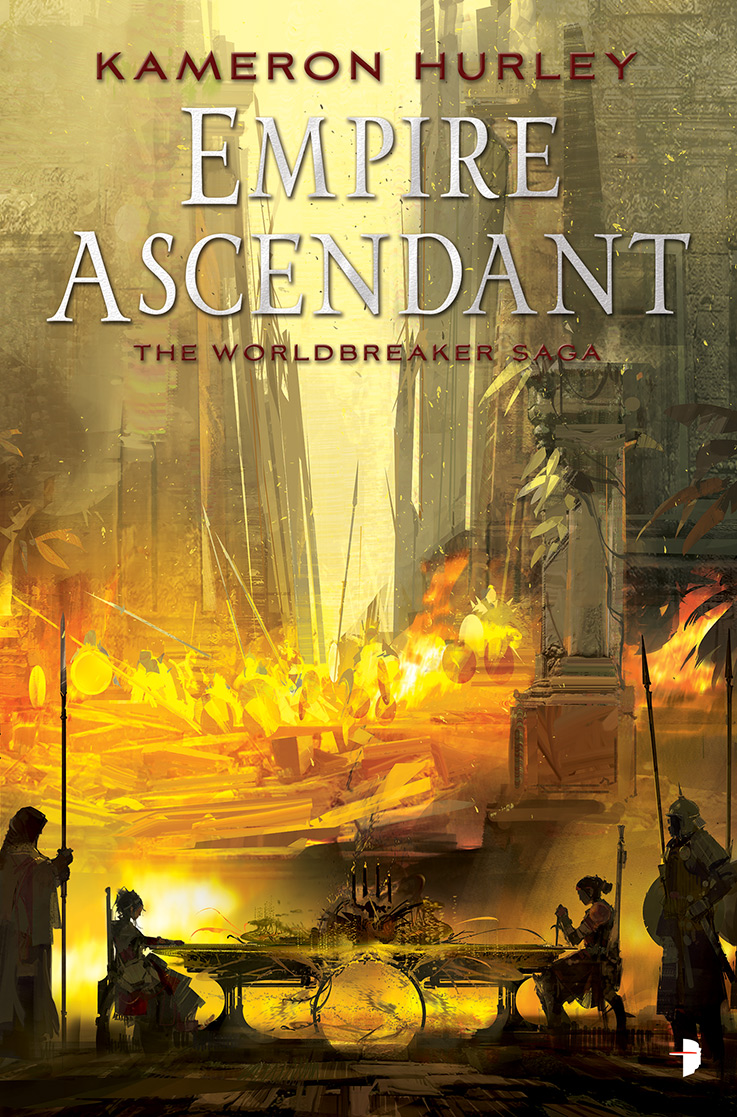 ——————————
Worldbreaker Saga
 ——————————
THE MIRROR EMPIRE 
EMPIRE ASCENDANT  (October 2015)
THE BROKEN HEAVENS (October 2017)