The world is a shitshow, my friends, and we have lots of work to do (5calls.org can get you started). But all work and no escape will burn us out, and we're on a long road. So let's talk books. Pre-ordering books is always great, but now it's even better, as when you pre-order you get little escapist surprises in the mail, regularly. And we all need those.
So here's a look at the books that have intrigued me so much here in 2017 that I've already hit the buy button:
Six Wakes by Mur Lafferty (January 31)
A space adventure set on a lone ship where the clones of a murdered crew must uncover which of them is the murderer — before they kill again.
I mean, I've been waiting for this one since Lafferty sold it and told me the pitch. How can you put that down? I mean, you gotta know what happens next. And if you pre-order today, you wont' have to wait long, because it's out TOMORROW!~
Grab it, folks.
Amberlough By Lara Elena Donnelly  (Feb 7th)
Covert agent Cyril DePaul thinks he's good at keeping secrets, especially from Aristide Makricosta. They suit each other: Aristide turns a blind eye to Cyril's clandestine affairs, and Cyril keeps his lover's moonlighting job as a smuggler under wraps. A debut spy thriller as a gay double-agent schemes to protect his smuggler lover during the rise of a fascist government coup. Trust no one with anything – especially in Amberlough City.
Been hearing a LOT about this one, and it looks simply luscious. It comes out the same day at The Stars are Legion which is… in one week. DEAR LORD. HOW WILL WE LIVE.
Kings of the Wyld by Nicolas Eames (Feb 21)
Clay Cooper and his band were once the best of the best, the most feared and renowned crew of mercenaries this side of the Heartwyld. Their glory days long past, the mercs have grown apart and grown old, fat, drunk, or a combination of the three. Then an ex-bandmate turns up at Clay's door with a plea for help–the kind of mission that only the very brave or the very stupid would sign up for.  It's time to get the band back together.
Something that looks a little light and fun, in an epic sword-slinging way. Now I need to write a gender flipped version.
American War: A Novel by Omar El Akkad (April 4)
Sarat Chestnut, born in Louisiana, is only six when the Second American Civil War breaks out in 2074. But even she knows that oil is outlawed, that Louisiana is half underwater, and that unmanned drones fill the sky. When her father is killed and her family is forced into Camp Patience for displaced persons, she begins to grow up shaped by her particular time and place. But not everyone at Camp Patience is who they claim to be. Eventually Sarat is befriended by a mysterious functionary, under whose influence she is turned into a deadly instrument of war.
How could I not pre-order this with a description like that? Even if "second American Civil War" is likely closer to 2020 on this timeline that 2074. I'm glad they got this out.
Borne: A Novel (April 25)
In Borne, a young woman named Rachel survives as a scavenger in a ruined city half destroyed by drought and conflict. The city is dangerous, littered with discarded experiments from the Company?a biotech firm now derelict?and punished by the unpredictable predations of a giant bear. Rachel ekes out an existence in the shelter of a run-down sanctuary she shares with her partner, Wick, who deals his own homegrown psychoactive biotech.
All Systems Red by March Wells (May 5th)
On a distant planet, a team of scientists are conducting surface tests, shadowed by their Company-supplied 'droid ? a self-aware SecUnit that has hacked its own governor module, and refers to itself (though never out loud) as "Murderbot." Scornful of humans, all it really wants is to be left alone long enough to figure out who it is. But when a neighboring mission goes dark, it's up to the scientists and their Murderbot to get to the truth.
Martha Wells is one of the most masterful and under-read worldspinners in the genre, and pretty much everything she writes is an auto-buy for me.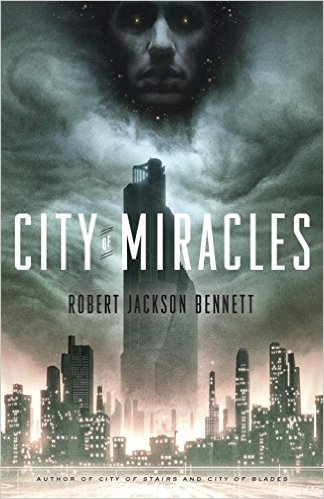 City of Miracles by Robert J. Bennett (May 7th)
There are some maybe spoilers in the copy of this one (read it just now and legit put my hand over my heart), so suffice to say: this is the third and final book in Bennett's excellent Divine Cities trilogy. Having loved the other two, this was an easy pre-order decision.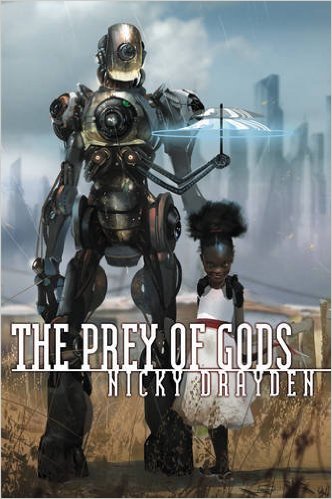 The Prey of Gods by Nicky Drayden (June 13)
In South Africa, the future looks promising. Personal robots are making life easier for the working class. The government is harnessing renewable energy to provide infrastructure for the poor. And in the bustling coastal town of Port Elizabeth, the economy is booming thanks to the genetic engineering industry which has found a welcome home there. Yes—the days to come are looking very good for South Africans. That is, if they can survive the present challenges: A new hallucinogenic drug sweeping the country . . .An emerging AI uprising . . .
I bought this on the strength of the cover and blurb, but then also went and bought a collection of Drayden's stories to make sure I liked her style. And lo, it was good, and I'm seriously looking forward to this one.
Spoonbenders by Daryl Gregory (June 27th)
A generations-spanning family of psychics–both blessed and burdened by their abilities–must use their powers to save themselves from the CIA, the local mafia, and a skeptic hell-bent on discrediting them in this hilarious, tender, magical novel about the invisible forces that bind us.
I got addicted to a show on Hulu called Shut Eye, which is about families of warring fortune tellers and psychics, one of whom actually gets real psychic powers. Really interested to check out this book from Gregory, which inspired a heated bidding war at publishing houses.
P.S. I've also read River of Teeth, and if I didn't already own it, I'd be pre-ordering it. It's a great read, which I blurbed, even!