Much to my surprise, at least, both Ann Leckie's ANCILLARY JUSTICE and my book GOD'S WAR have been shortlisted for the BSFA and Arthur C. Clarke Awards this year. Women on the shortlists actually isn't as newsworthy a thing as perhaps it's been touted in the media, but having two books that explicitly tackle tricky issues of gender, race, war, and colonialism all at the same time may be a little more rare.
That said, I was surprised to see someone on Twitter say that reading these books had "Proved that the future isn't just for the guys." In fact, seeing it made me a bit sad, because though these are highly visible books right now, they actually exist as part of a really massive body of SF that tackles the same themes, hundreds and hundreds and hundreds of titles that I've been reading for years but that don't get as much mainstream attention as they should.
To keep this "if you liked x, you'll love y" list manageable, I've tried to keep it restricted to space opera/ish or secondary world space mercenary books that tackle the same sort of themes.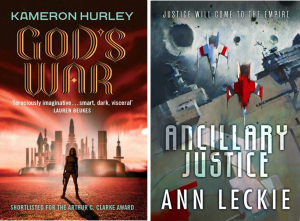 UPDATE: also worth noting, before we dig in, that the sequels to God's War, INFIDEL and RAPTURE are already out, and the sequel to Ancillary Justice, ANCILLARY SWORD, can be pre-ordered right now.
So after you finish ANCILLARY JUSTICE and GOD'S WAR you should read:
By Jacqueline Koyanagi
I blurbed this book thusly, "There are badass women running around doing badass things and falling in love with each other and with starships, and I'm totally down with that." I rest my case.
By Elizabeth Bear
It's crazy semi-gods/gender shenanigans on a massive generation ship unlike any other you've seen.  This one is hard to even sum up – weird space genderpunk action, with Shakespeare.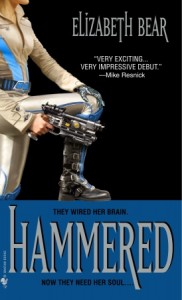 Hammered  | Scardown  | Worldwired
By Elizabeth Bear
Because Elizabeth Bear is pretty prolific, I had to keep it down to two series. Hammered, etc. are about a tough, no-nonsense, middle-aged  Canadian Warrant Officer Jenny Casey, who gets bad guys, pilots starships, and endeavors to save the world – again and again.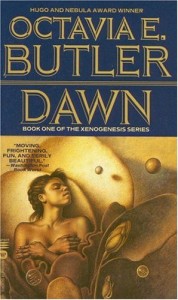 Dawn | Adulthood Rights | Imago
By Octavia Butler
When aliens and humans come together to save the human race – sending many to sleep in giant alien spacecraft to wait out the cataclysm – how do we determine what humanity is anymore? Butler takes on complicated, uncomfortable issues of autonomy, humanity, and our penchant for self-destruction in this series about alien beings who merge with humanity to save them.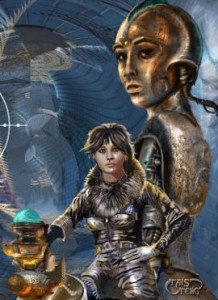 Courtship in the Age of Machine Gods
And
By Benjanun Sriduangkaew
Really, anything by Benjanun is extraordinary.   Read her complete work and upcoming stuff here.  When she actually writes some books, buy them.
By Nicola Griffith
The only men in this book show up in the orbiting space station at the beginning, then it's all women kicking ass all the time. Right up there as a core feminist SF tale with Russ's short story, "When it Changed" and  Rokheya Shekhawat Hossein's "Sultana's Dream."
By Joanna Russ
One of my all-time favorite reamings of the old assumption that a bunch of people stranded on a planet should start propagating to "save" the human race. One woman decides to take control of her future among the stars, instead of having it dictated to her.
By Samuel R. Delany
A tad dated, but still an interesting exploration of gender expectations and social norms set on Triton during a time of political unrest.
By C.S. Samulski
Fascinating exploration of war, faith, genocide and gender-swapping. There's an unfortunate rape scene that pushed me out of the story, but well worth a read (I never could finish Who Fears Death for the same reason).
By Candas Jane Dorsey
This book opens with "There is a scarred, twisted old madwoman in a cage in the courtyard." And just gets better from there. Folks who read "Enyo-Enyo" will see some similarities in theme here. Weird time displacement, meetings-of-oneselves, despair, loss, madness.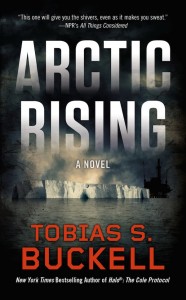 Arctic Rising
By Tobias S. Buckell
After some further thought, I decided to add this one too, even though it's more a near-future thriller – because it stars a Nigerian lesbian ex-mercenary, and is a great gateway to his more space–opera–y work (which I didn't dig as much, but which you might like).
By KJ Bishop
This is not strictly SF. In fact, it's fantasy. But if you liked God's War, you will love this book. It's about two old war veterans – a roguish man and jaded woman doctor – who try to carve out a life for themselves after being on the losing side of a great war.
By Ann Aguirre
Not strictly an SF book about gender dynamics, but the first in a series that's a fun space operatic romp. Aguirre knows how to write page turners with kickass heroines and great romances.
By Geoff Ryman
This collection of gender-defying, mind-bending novellas had a huge impact on me.  Bonus explorations of genocide, race, colonialism, war, capitalism.
Additional books from others' lists:
I haven't read these ones, but I have it on good authority they're pretty great.
By Rachel Bach
I have not read this, but keep being told to. It's about a whiskey-drinking, career-driven woman who likes to bed pretty boys and aspires to be among the universe's most elite soldiers. So.
By MJ Locke
Another one I haven't read, but am told I should. This one's about a century-old resource manager on an asteroid colony who gets caught up in a mystery with ties to a Martian crime syndicate, among others.
By Nnedi Okorafor
A rift opens up between Earth and an alien world, and a young Muslim girl must try to avert a war between the worlds (bonus plant-based technology).
————————
I know I'm missing a TON of "if you liked this, you'll love this" books, but this should help get you started. Create your own lists and share them widely!