I have gotten very good at reviewing contracts in the last 16 months.
My latest sale, a collection of greatest hits and new essays titled, THE GEEK FEMINIST REVOLUTION will be out next year from Tor Books. We're gunning for spring/early summer so it works as a good warm-up tour for the release of THE STARS ARE LEGION on October 6th. That makes 6 books sold in the last 16 months, and 9 books sold total since 2011, for those keeping track.
And yes, I still have a day job. Structure your own publishing dreams accordingly.
Essay collections are hard sells, about on par with short story collections, but Roxane Gay's BAD FEMINIST has beaten the odds, as have a few recent others. It turns out the backlash against feminism embodied in stuff like Gamergate has been really great for feminist writers all over. Everyone wants to understand what on earth all the guys are so upset about (though in truth, a real book about Gamergate would basically be a stunning expose on spurned stalker boyfriends, and how men react when they realize that just being men doesn't mean they're entitled to the women they thought were their prizes merely for existing. Someone write that book! Well. I'll probably have an essay about it in the collection, honestly). The success of these collections played a big part in my confidence that we could sell this collection. Add this to my tireless agent's insistence that if we were going to sell an essay collection, this was clearly the time to sell it, and her own exuberance and confidence in the project, and it was now or never. So even though I'm hip-deep in the EMPIRE ASCENDANT structural edit and have to turn in THE STARS ARE LEGION in five months(!!), we jumped.
Selling a book – especially a nonfiction book – on proposal happened a lot more quickly than with a fiction manuscript. Many non-fiction projects, like this one, are topical and NEED to move that fast, so that makes sense. There was a lot of interest and a couple of offers, and it was an incredibly tough decision to figure out the right home for it. In the end, Tor has sold books like this – Scalzi's essays, Jo Walton's, and others – and they understood that a book like this was right for pitching to institutional markets (there's a reason that Google searches for the word "feminism" peak in April and November, during mid-terms, and tail off during the summer when college classes are out). I have to wear my business hat a lot, and I have an agent with a good head for business too, so we make a good team.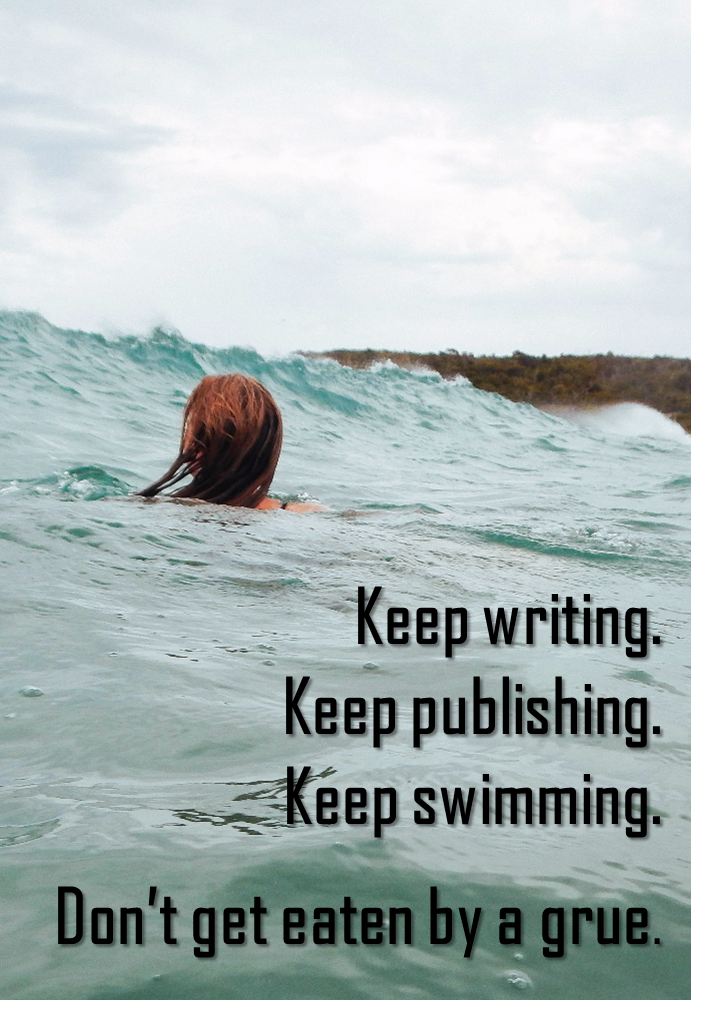 This also means that I will have work out from four different publishers, in addition to a handful of self-pub stories. One of the things I've learned throughout my brief but wild tangle with publishing is that it behooves you to have a lot of eggs in a lot of different baskets. My first contract cancelled and my editor let go at Bantam, Night Shade's implosion, followed by the sale of Angry Robot Books (which has since stabilized, which is great), taught me a lot about how precarious one's position is in this industry. Books are orphaned by editors all the time. Imprints get shut down. Lines get sold off. Editors move on. And people get laid off like nobody's business. Having a bad early experience with publishing was good, in some respects – it's made me a lot more calculating as I move forward.
It's also worth noting to people who are totes excited about all these book sales that I'm well aware that just selling a book to a publisher is just a first step. The book then has to perform – it MUST sell decently in the market for you to keep your groove going. If it doesn't… well. So as fabulous as it is to be selling a lot of books, that part of of me that wears the business hat is very much aware that the really hard work is just starting.
There are people who look at my career and go, "Clearly, you're headed to the moon!" but I've seen too many things go wrong. I know the market is fickle. And though there are some times I get excited and clap my hands along with you all, most of the time I'm just bearing down and getting to work. Careers ebb and flow, and often feel like they're built on a very precarious house of cards.
Everyone is always looking for the next hot young thing, the next six or seven figure deal maker, and my career is more of the slow, steady slog sort. Any splash I make has to be driven by the work and the way I position that work. I always prepare for both success and failure, because you never know what's next. My first book was not an instant classic. It didn't sell for six or seven figures. I didn't sweep an awards year. I just plugged away, building an audience as I went, and I'm learning to be more strategic and business-savvy as I go. And I continue to level up as a writer and challenge myself. It's all you can do.
So thanks to everyone for supporting my work, and believing in it.
Now let's turn all that goodwill into action, and do please go buy the fuck out of my books!