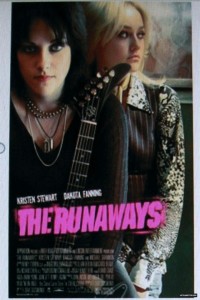 It's so sad when a movie with a potentially great story goes so wrong.
I am willing to forgive Kristen Stewart the whole Twilight thing because she had such a great Joan Jett look. The problem was she just wasn't given much at all to work with. Dakota Fanning as Cherie Currie was even worse, with only slightly more to work with. And if you think the other three band members got much more than a name and a snide remark or two to substitute for "characterization" you'd be dreaming.
In between images of trash-throwing, leather-wearing, and band members making out, I wasn't really sure what the overall point of the movie was. It opens with Currie lip synching to David Bowie in a talent contest, and I thought, hey wow cool this could be like a trippy version of Velvet Goldmine only totally reimagined for The Runaways!
In fact, it was nothing of the sort as the protagonists stumbled through random disjointed scene after random disjointed scene.
At one point, J. walked in while Kristen Stewart was slunking around and said, "Is this movie even good?"
"No," I said, "but I keep thinking of what it could be. It's like watching those terrible Star Wars prequels where you keep going 'oh, that's such a good idea! They could have done something so cool with that!' and then being endlessly disappointed with how they failed to tell you that story."
In fact, the movie was one big messy stew of failed potential. It's such a wonderful story – all-girl rock band in the glam 70's made up of these incredibly young and talented girls. It has the potential to do and say and be all sorts of things. But in the end, I wasn't sure if it was a love story between Joan and Cherrie or a heavy-handed cautionary tale about mostly off-screen drug abuse or how rock n' roll can kill you or save you or…? Oh hell, it wasn't even trying to be any of those things. It was just a poorly put together montage of moments from what could have been a great story. The only decent part of the movie was the soundtrack, which of course, was their actual decent music and, later on, lots of great just-Joan-Jett music.
At the end of the day, I knew nothing more about these characters. Joan is the only one with any kind of articulated goal, which is to be a rock star, and that was nice, but it was so muffled and stuffed and padded with so much other garbage that the actual people in the story and their motivations got lost.
The sexism was heavy-handed and sloppy – sexism is less about a guy shoving his hand in your crouch and more about the other Joan in the Mad Men getting replaced by a guy as script reader, and the epically sad and resigned look that fleetingly passes across her face.  But either the director didn't feel these actresses could do subtle or she didn't believe her audience would understand subtle, so it's all random make-outs and orgasms without dealing with stuff like concern over contraception or pregnancy, which you'd think would figure in more with an all-girl band (granted, most of the making out was within the band, so…?).
Regardless, there was a big opportunity missed to create real, interesting people with a real, interesting story. How I could be bored five minutes into the movie and bored right up until the end with such a great subject just baffles me.
But why did I sit through it, then, if it was so boring?
I once asked an old friend of mine why she watched "The L Word" since it was such a formulaic, poorly written little soap opera. She thought about it for a minute and said, "You know, if you're gay, and especially if you're a lesbian, you don't see yourself much in pop culture. So when you find stuff that features stories about you, even when it's bad, it's just very comforting to watch."
And that, in essence, was why I kept watching this stupid show. Here was this story about an all-girl rock band, a movie mostly filled with women all talking to each other, where the two central relationships are between Cherie and Joan and Cherie and her sister, and they are making money and building careers and making out with each other, and it was just so nice to see a story about women that wasn't, you know, about shopping or finding a guy who'll marry you.
Which made it all the more disappointing that it sucked so damn much.