It's sometimes difficult to remember that the Bel Dame Aprocrypha isn't quite wrapped up in the UK as yet. But we're just about there? For those who've been waiting to complete the set, the final volume of the series, RAPTURE, will be out from Del Rey UK on February 26th, 2015. The ebook should be out a bit before that, so stay tuned.
For those wondering about the cover, well, we're sticking with the yellow/red/purple color scheme (though in the UK it's red/yellow/purple). Here's your final iteration of Nyx and her bugs, for a bit: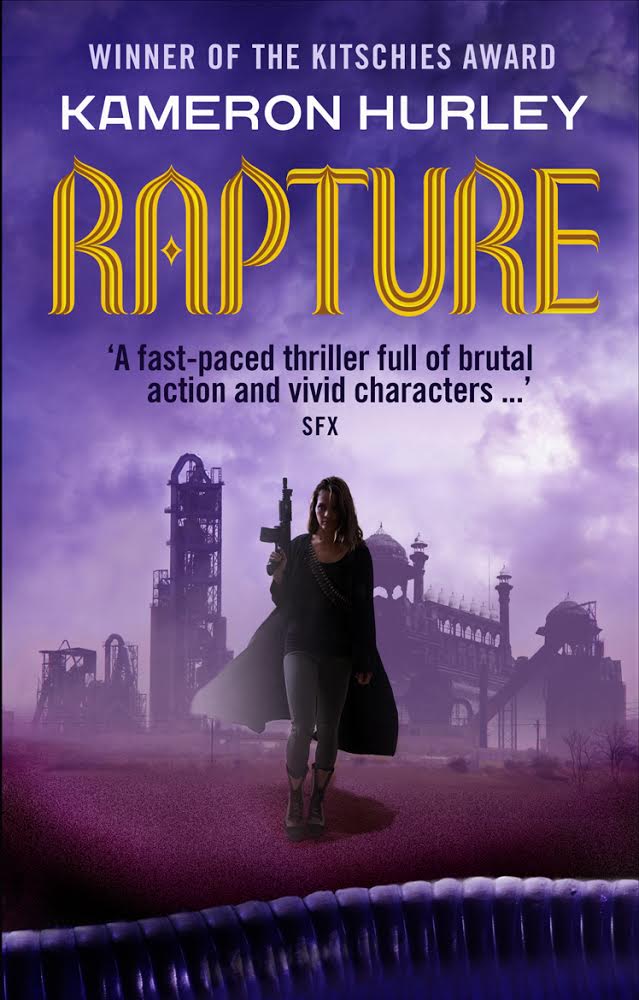 After years in exile, Nyxnissa so Dasheem is back in service to the bel dames, a sisterhood of elite government assassins tasked with eliminating deserters and traitors.
The end of a centuries-long holy war has flooded the streets of Nasheen with unemployed – and unemployable – soldiers whose frustrations have brought the nation to the brink of civil war.
Not everyone likes this tenuous and unpredictable "peace," however, and somebody has kidnapped a key politician whose death could trigger a bloody government takeover.
With aliens in the sky and revolution on the ground, Nyx assembles a team of mad magicians, torturers and mutant shape-shifters for an epic journey across a flesh-eating desert in search of a man she's not actually supposed to kill.
I realize very few people will probably get that that's a giant centipede thing on the bottom, but whatever. I do like the city stuff in the back, and the quote from SFX magazine.
You can pre-order RAPTURE from your favorite UK bookseller starting… now!
I'm super proud of these books, and they get better as they go. I do hope more people read INFIDEL and RAPTURE, which both myself and reviewers agree are way, way better than the uber-award-winning first book. GOD'S WAR did indeed get a reprint in the UK, which is nice, but the other books, my friends. SERIOUSLY. THE WELL SCENE IN INFIDEL! THE DESERT SCENE IN RAPTURE!
LOOK AT THEM MY PRETTIES