Hello, folks! It's that time of year again, when I say: don't quit your day job!
Below is a breakdown of how much money I made writing in 2016. This is a very ROUGH estimation (take note, IRS!) which I'll be finalizing here soon, but this is fairly comprehensive.
Note that this does NOT include the income from my day job. If you wonder how I afford health insurance and convention traveling expenses and rent, it's because I have a decent-paying day job. And this is why:
 
$25,400
Royalties, foreign sales, advances, audio
 
$11,100
Patreon
 
 
 
 
$1275
Magazine articles and columns 
 
$630.51
Story sales and reprints 
 
 
$196.62
Self-pub sales 
 
 
TOTAL

     $38,602
And here's how that looks visually: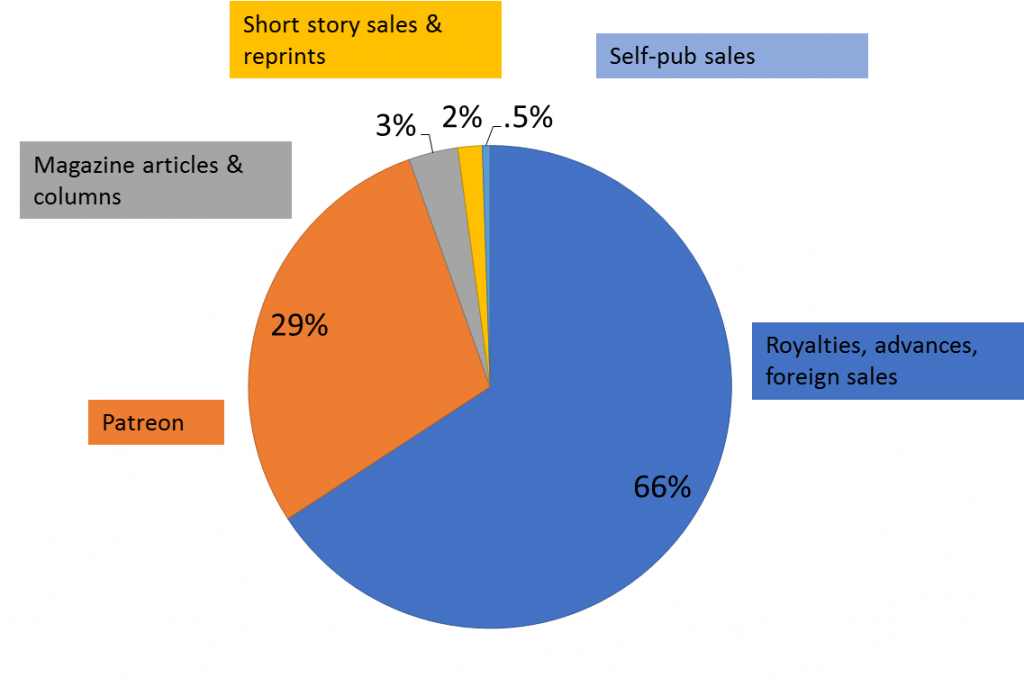 If we had no debt and some other way to get reliable health insurance, I could probably go full time. That was the hope before the government started to repeal the ACA, that I was about 3 years out from being able to become a full time writer and just live nimbly instead of traveling all the time. Realistically, though, this isn't going to happen anymore. So I consider my writing a big part of my retirement income.
This is also a good reminder that your favorite writers are not rich celebrities. We're just people who are hustling like you are. So do please remember that. And keep on hustling.
Also: don't quit that day job, because this varies incredibly from year to year. It wasn't that long ago when I cleared a whopping $7,000 as a writer. You just can't rely on income that's this variable.