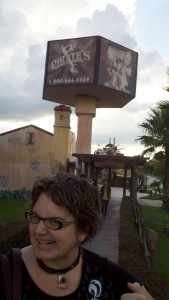 I guess it shouldn't be odd that such a high percentage of the people who buy books are people who want to be writers. After all, there must be a pretty big percentage of video game players who think it'd be a lot of fun to create video games. Loving an art form often means you're interested in creating it (not necessarily that you're any good at it, or understand the sweat involved, but love does lead one to dally in such thoughts).
While I was on vacation last week, another vacationer stopped by our breakfast table at our resort and commented on J's shirt (she was just the first of about half a dozen who commented on it that day. It features the heads of four presidents, one with a monocle, with a collective dialogue bubble over their heads that says "TMBG." People love trying to figure out what "TMBG" stands for). At any rate, after commenting on the shirt, she looked over at me, with my spiky 80's haircut and bug necklace, and announced that we "Looked like steampunks."
Geeks, as ever, are very good at finding their own, and so we talked cons and exchanged book recommendations. She recommended a book I'd never heard of right off, and wrote it down on a napkin, which I tucked away. J, being a better salesman than I, recommended GOD'S WAR (without mentioning I was the author), which she said she'd actually heard of (!). I also had the forethought to recommend HEART OF VERIDON by Tim Akers, but forgot about MECHANIQUE by Genevieve Valentine. Oh well. Next time.
At any rate, I felt a tad guilty about J. recommending my book to some random person at the breakfast table, though my parents have been shamelessly promoting the book by leaving it around at hair salons and giving it to restaurant staff who profess a love of SF (!).
But then we got home, and J. did a little googling of the title the woman had recommended…. and guess what?
It turns out it's a self-published novel (which is why I hadn't heard of it) and (drumroll) she was, of course, the author of said book.
Here we were, two strangers on vacation, covertly recommending one another's books to each other.
Oh, fictionverse – you wacky pyramid scheme, you.