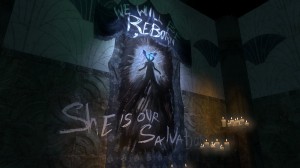 In case you missed it yesterday, I've gotten official word that Night Shade Books will be publishing the third and final book of the Bel Dame Apocrypha, RAPTURE in late 2012.
This is wonderfully great and rather surreal news. It also means I now have a book due March 1st (eeeeeyyyyaaaaah).
My mom recently asked how I was digesting the flurry of good writing news: two books published this year, contracted for another next year, good reviews, positive feedback, paying off debt, and etc.
The answer is, I'm not as lighter-than-air-happy-go-lucky as you might think. The trouble is, I know a lot of professional writers who have been doing this a good long while, and I know how brutal this business is. It's not all million dollar contracts and movie deals. I have a long road ahead of me, and probably the biggest, toughest job of all for the rest of my life – the job of staying relevant and maintaining momentum in an increasingly crowded marketplace. It means I need to write at least a book a year – a GOOD book a year – and stay on top of continued markety-type stuff. And I need decent (and preferably, ever-increasing) sales numbers to make the little book computers happy so I don't have to change my name.
Not losing momentum is tough, and I don't expect that I'll achieve this all the time – there's something to be said for a spectacular failure and a comeback. But right now I'm just powering through as best I can. Most of the time, it feels like I'm juggling a lot of plates. There's my day job career that pays the bills and the health insurance, and then there's the books and that whole other career, and then there's freelancing work, which helps pay off debt, and then there's the daily living stuff, like remembering to feed the dogs and cook food and maintain the house and try to be a good partner. I've got that whole chronic illness thing to manage, too, and regular workouts and trying not to let my fitness slide.
And of course, there's the huge investments in being a better person that have fallen by the wayside in recent years – there's the French lessons and boxing classes and world traveling and other brain-enrichment activities that help me stay sharp. Those are the things I've had to led slide, because I only had so many spoons at hand.
This kind of juggling will make you crazy if you think too much about it, so I try to take it one thing at a time. First comes RAPTURE, then the space opera, then another series. First comes food prep, then cleaning up dog vomit, then painting the porch.
I'm not particularly sure how I'm going to do all this, or how well I'll do at it, or when I'll fail at it, but for now I'm just going to keep barreling along until I crash into something. It's all you can do, really.
Fall down seven times. Get up eight.
And all that.
*Image credit is from Bioshock: 2, of course! What? Hey, they also have a RAPTURE title, cause they are AWESOME.