(if you're only here for the giveaway, here's the details: To enter to win a full-color, wall-sized map of what appears in MIRROR EMPIRE, signed by the author, simply reply to this post on Facebook, Google Plus, or @tweet the same to me @kameronhurley with tag #mirrorempire and let me know your favorite fantasy map, yours or someone else's!)
———————————————————————————————————-
I rant a lot about how writing and publishing are hard. Boo-hoo. Whine whine.
I get caught up in that churn a lot, because this is my life now, and it's often hard to see outside the present. But sometimes it's good to take a step back and look at how far you've come. Because you know what? Not everybody who says at twelve, "I'm going to be a writer. Just you wait. You'll see them in book stores. I'm going to write big epic shit that knocks your socks off" ever actually does that.
In truth, for a variety of reasons, most don't.
Because life is hard, writing and publishing are hard.
But sometimes, yes, sometimes – some of us make it.
THE MIRROR EMPIRE was the second book I tried to sell, right before GOD'S WAR. It was very long, and very much a travelogue, at about 200,000 words. But the primary conceit was there – I knew who they were fighting. And the primary characters were there – I knew who the novel needed to be about.
I'd been writing in the world that would become the snarling flesh-eating plant infested satellite-magic infused one in THE MIRROR EMPIRE since I was twelve. Yes, really – just look at the maps. I drew up maps for the first few short stories I wrote there – tales of trolls' hair and dragons' gold and scullery maids who turned out to be princesses and twin stable boys who were really princes. It was all very juvenile, all very much based on the sort of high fantasy Tolkien-rip-offs I'd been exposed to growing up.
The earliest map I could dig up of the island where everything took place, Grania, was this one – an old map my mom saw fit to frame after I headed off to college. I think I was fourteen or fifteen when I drew it: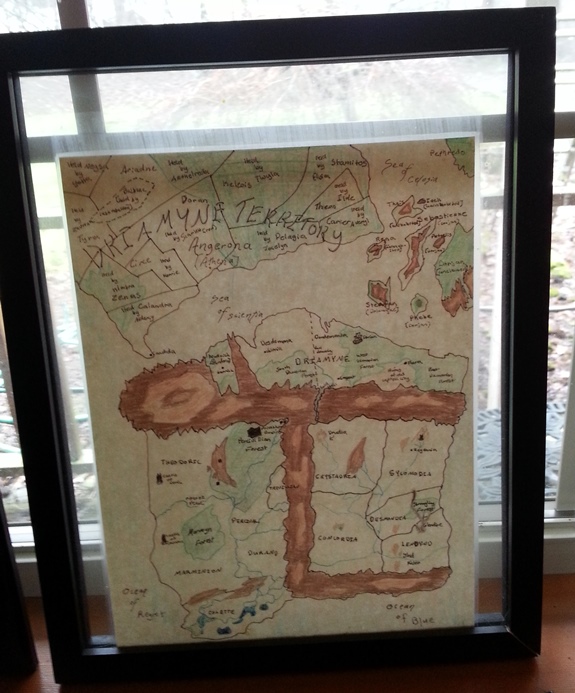 My map obsession continued throughout my teens. I lived in the middle of nowhere, so writing and craft projects pretty much filled my free time. Eventually, I decided Grania was just a little island in a much, much bigger world, and drew a world map to prove it (still hanging in my parents' dining room):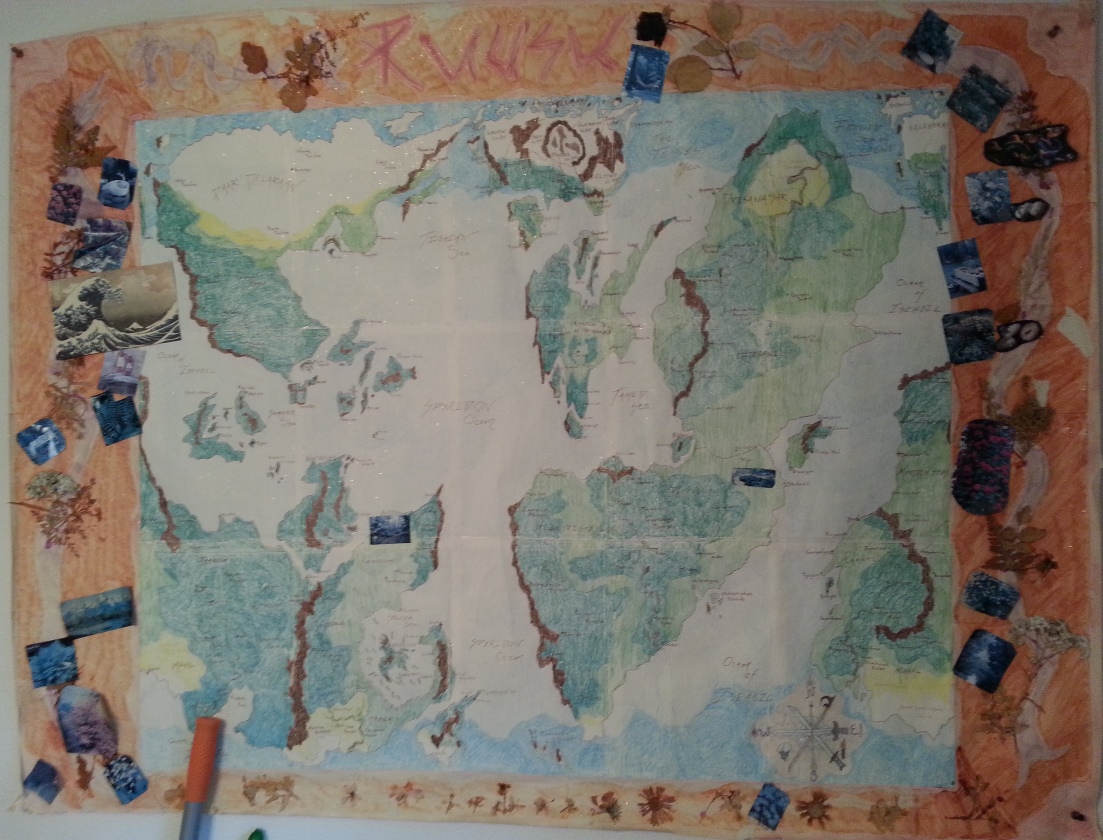 (Grania is the thumb-sized square at the tip of that big tundra-slathered continent in the Western hemisphere). This early map shows the world is called "Ruusu." Over the ensuing years, I decided that sounded too much like "Russia." So I changed it to Raisa. And that's what stuck.
I wrote a total of seven novels set in this world, the last of which would end up forming the backbone of what was to be THE MIRROR EMPIRE. But none of them clicked with anyone. I wrote an eighth novel set in a proto-Nyx desert world, and that didn't sell either. I rewrote the proto-MIRROR book again, and tried to sell it again, with no luck… again.
That's when I shifted gears and wrote GOD'S WAR, my ninth book and first published novel.
I learned a lot writing GOD'S WAR, INFIDEL and RAPTURE. And what I learned helped me approach the original story idea I had – an epic fantasy about an invading horde that turned out to be… well. Themselves (more on this during release week for my Big Idea post).
That idea remained, and the core ideas behind the characters, the living temples. But the rest got burned down and rebuilt with a lot of editing help from my agent, for the sake of the massive and intricate plot I wanted to wrap around these people. The world also got burned down and reimagined. My lackluster pseudo-medieval setting, the stuff of teen churn, became a contaminated jungle of flesh-eating plants, matriarchal societies, empires on the tundra, and giant bears and dogs that served as mounts. All the sudden there was vegetarianism, and ritualistic cannibalism, and blood magic, and an entire system of powerful sorcerers whose magic waxed and waned depending on what stars were in the sky.
It all got rebuilt.
All but the map.
Because this was, at core, still the planet I built.
The names changed, but the geography was the same. When I got asked to give the cartographer for Angry Robot a map, I had plenty to choose from. Eventually, the view I chose was from this map, made when I was 17 or 18, because it would fit right for the format of the first book, and contained all the areas where the first book of action took place: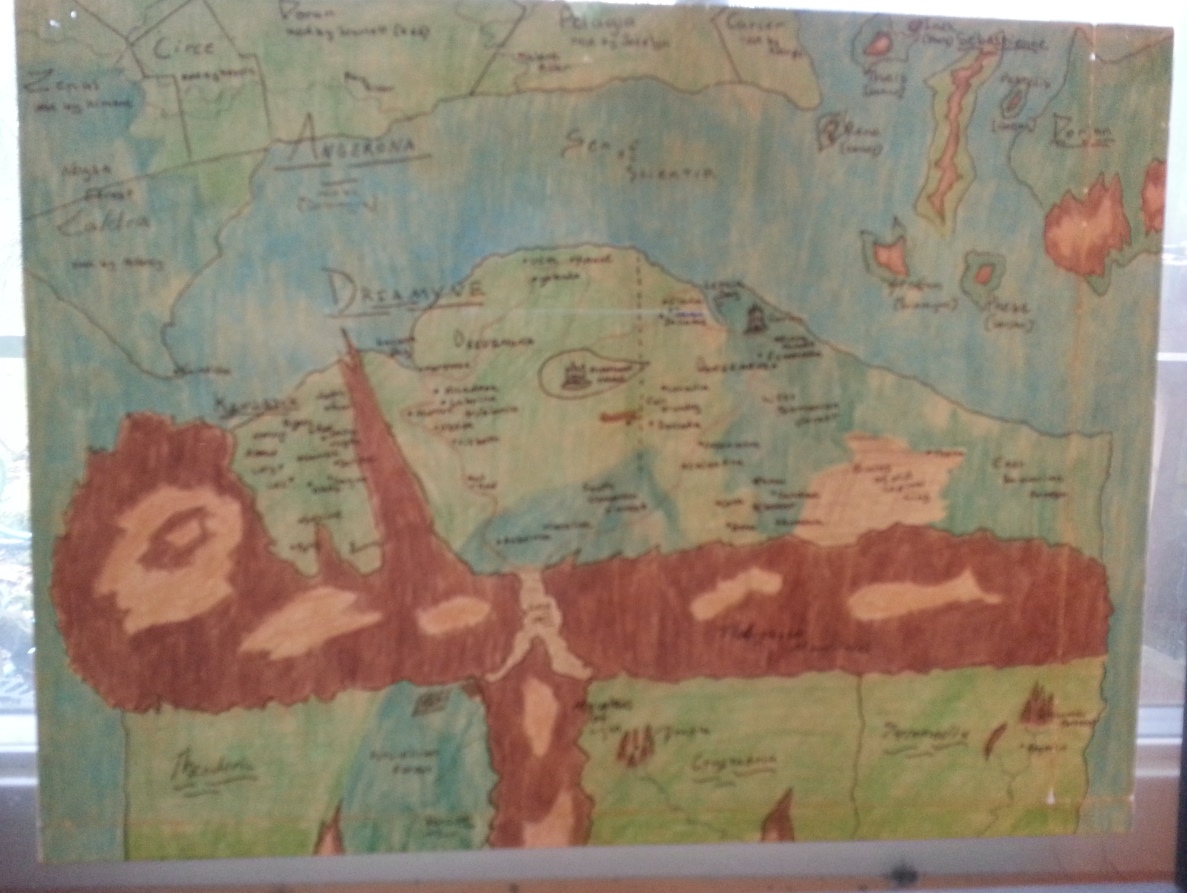 All of the place names had to be updated, of course. Back in the day, these relied heavily on European-influenced naming schemes. But I'd moved on. So this is what I sent to AR, expertly "designed" in… Microsoft Powerpoint (heh heh):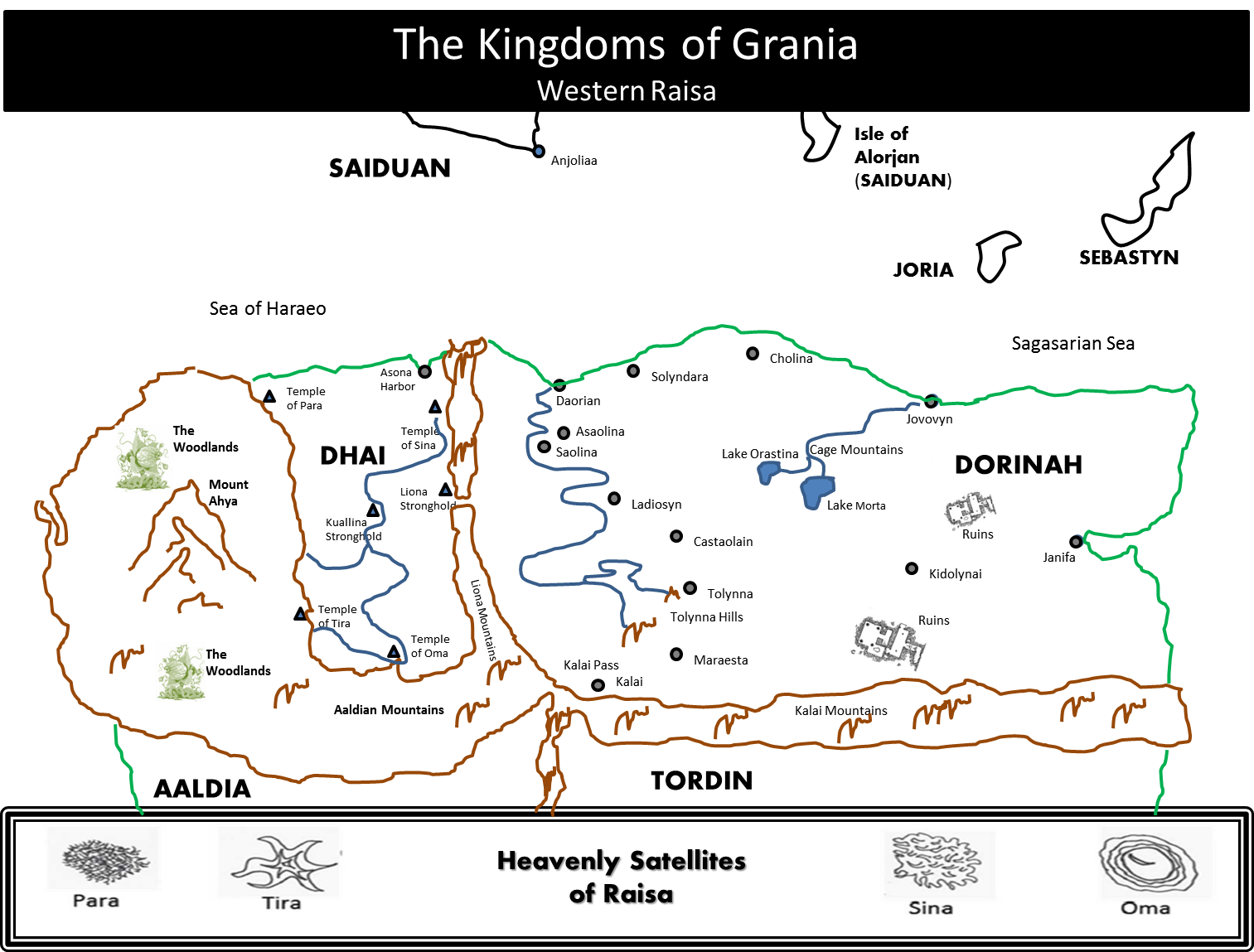 The trickiest part of the map process was, naturally, the satellites. They're the bodies in the sky whose powers folks call on to perform feats of magic. They are… well, read and find out what they are, but portraying them on the map was important to me. As I re-read the book the final time for the page proofs pass, I realized just how necessary it was to show these somewhere.
When I got the final map back from the cartographer, in B&W for the book and in color for all other uses, I admit I was a little teary-eyed.
This has been a long road, for this little book. It took me a long time to gain the skill I needed to tell it correctly, and I'm still not convinced I was totally ready. But I'm proud of what me and this incredible team of folks – my agent, spouse, assistant, and the entire staff at AR – came together to make. I could not have made it just this way on my own, and I thank everybody for helping me get this far.
"I'm going to be a writer. Just you wait."
And so I am.
Here's the final map for THE MIRROR EMPIRE, created by artist and cartographer Steff J. Worthington: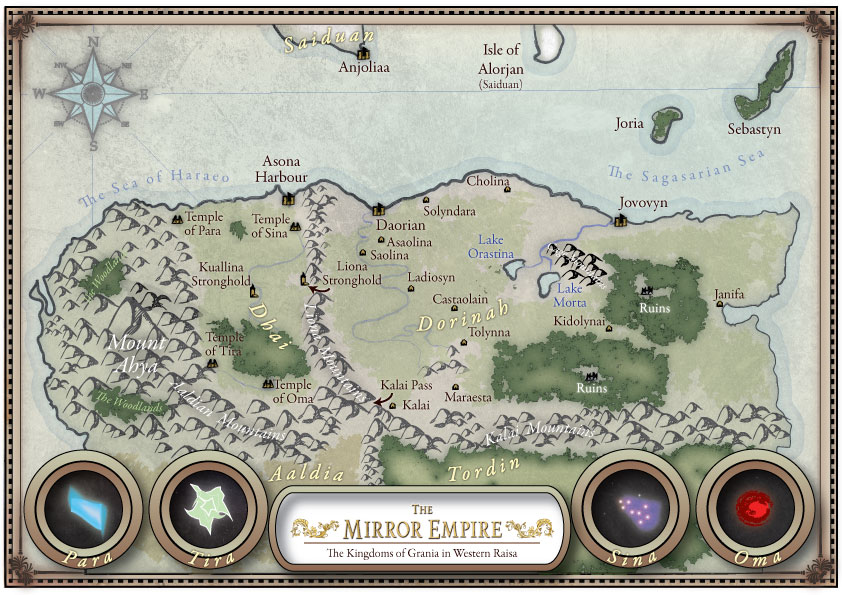 Now you can enter to win your own full color wall MIRROR EMPIRE map of Grania, in Western Raisa, expertly modeled here by Angry Robot editor Lee Harris, and signed by me: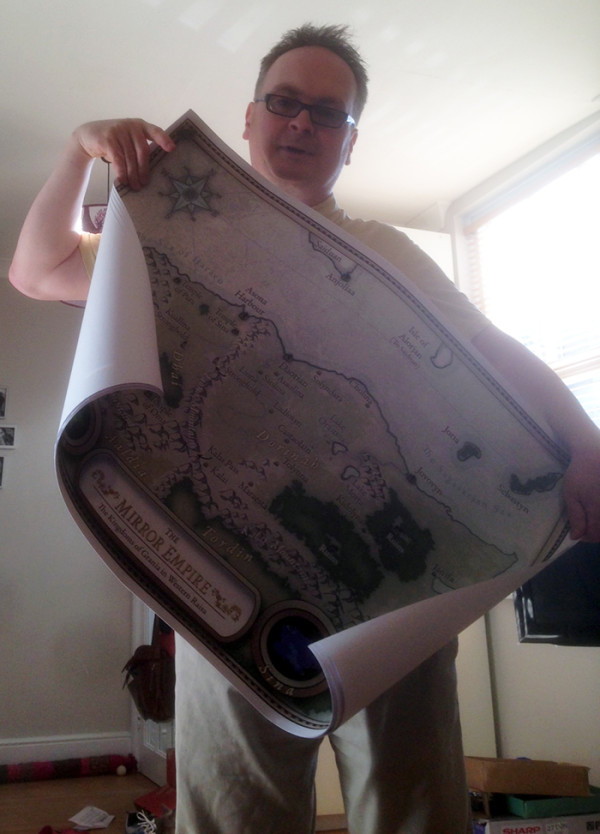 To enter, simply reply to this post on Facebook, Google Plus, or @tweet the same to me @kameronhurley with tag #mirrorempire and let me know your favorite fantasy map, yours or someone else's!
Winner drawn tonight at 8:00 pm CST (9:00 pm EST), as I'll be on the road most the day!