Welcome to August! With THE MIRROR EMPIRE dropping on August 26th (eeeeeeee) I wanted to do a quick roundup post of some questions I've been getting about the book. If you start asking me these things in online venues from here on out, expect to be re-routed here!
Q: Will there be an audio version of THE MIRROR EMPIRE?
A: Yes! Audible has bought rights to the book in a not-bad deal (I'm excited to earn out my advance as fast as possible). I sent them a list of preferred narrators, but as with anything, who knows who they'll choose. I'm told the audio version should drop within a few weeks of the general release. Audio takes some time to produce.
Q: Will there be foreign versions of THE MIRROR EMPIRE?
A: There has been some interest. When I know, you'll know.
Q: Will there be a movie deal for THE MIRROR EMPIRE?
A: People have asked to read it. But as you all know, that means nothing in H-wood. If you want a movie deal, my best advice is to buy as many books as possible to show there's a strong fan base for such a thing. As ever.
Q: I can't pre-order MIRROR EMPIRE on iTunes or Kobo! When can I order it from these venues?
A: It's available on Kobo now!  Sorry for the delay on iBooks. This is something the distributor, Random House, handles, and it's just not up yet. The most important platforms go up first. The others get in line. It'll get there!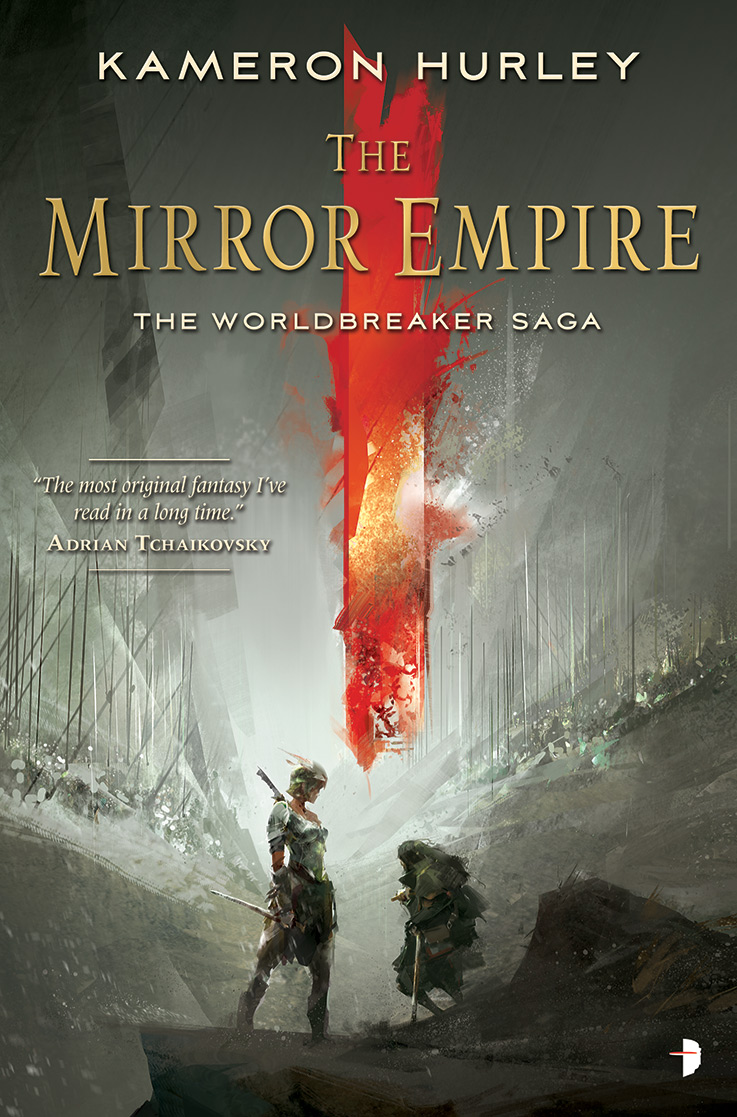 Q: I've read in a lot of early reviews that without a map or glossary, it can be confusing to keep track of all the countries and characters in THE MIRROR EMPIRE, like with the WHEEL OF TIME series. Is there a map and glossary in MIRROR EMPIRE?
A: Hell-to-the-yes. There is a map and nice fat glossary in the final. Scroll down to see a color version of the final map that appears in the book.
Q: THE MIRROR EMPIRE comes out August 26th in the U.S. What about the UK release?
A: It will come out in the UK on September 4th.
Q: You said the ARC version of MIRROR EMPIRE is different than the final. HOW DIFFERENT, HURLEY? You're not going to make me BUY a copy, are you?
A: Aside from obvious copyediting changes, I make better use of that third-gender pronoun later in the book. I also have slightly different endings for my Roh and Ahkio plot arcs. If you'll be upset reading the second book because I say something happened a tad differently for Roh and Ahkio than you remember, it likely won't hurt to spend the $6.49 on the ebook to double check. That's half the price of buying a movie on Amazon Instant (and cheaper than renting most movies these days, honestly).
Q: How important are reviews? If I want to review your book, should I put it up now or wait until release date?
A: YES!  Best thing to do if you liked MIRROR EMPIRE, of course, is to do the thing passionate readers always do – tell every fricking person you know how much you love it. Review it. Post about it. Rant about it. Sing about it. Whatever.
Q: I hear you are writing a lot of guest posts related to this book's release. Why aren't you doing one for my blog?
A: Well. Did you ask? All booked! I'll be doing this again next September, tho. Never fear.
Q: We are getting pretty sick of hearing about this book. What can we do to make you stop talking about it?
A: I will stop talking about it when I sell 30,000+ copies, or on September 19th, whichever comes first.
(will add to this list as I get more questions in coming days)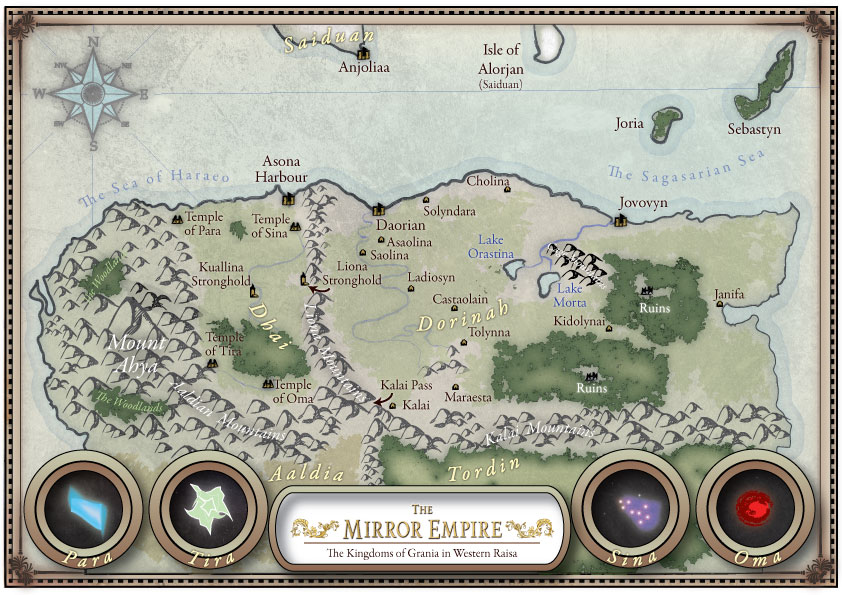 MIRROR EMPIRE map by Steff J. Worthington