Hey! Guess what!? I'm part of the establishment now!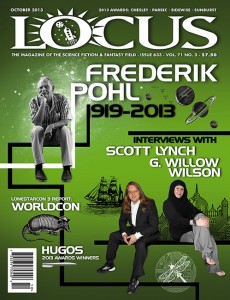 Or, rather, I have an article in  Locus Magazine this month. Check out the teaser below, and then go grab (or view) a copy of the October issue to read the rest:
"Everybody Already Knows": How Silence About the Realities of Publishing Hurts Authors
Families are full of secrets. Publishing is no different.
There are the ho-hum secrets – the affairs, the folks who stole money from now dead relatives, the folks who aren't paying their taxes. There are also bigger secrets.  These are the secrets that matter, the ones that could help others in the family if they were shared. These are things like mental illness – hiding an uncle's illness means his niece may suffer for years in silence, thinking she's the only one with that issue. And there are darker things, like abusive spouses and family members who abuse children. We hush these things up because we fear they're too personal to share. Too personal right up until keeping that secret means your abusive spouse goes on to abuse someone else, or the children abused by a family member go on to repeat the cycle of abuse.
Secrets are knowledge not widely shared. Knowledge shared is power, and leverage, especially in the publishing industry.  Sharing knowledge is how we change things.