Note: Contains All the Spoilers for both films
I had the surreal experience of watching Snowpiercer and Guardians of the Galaxy within a week of each other. I can hear the cries now: but what the hell does a dystopic train apocalypse movie have to do with a MacGuffin-plot galaxy romp with a wise cracking team of misfits?
What actually fascinated me most in watching these two films so closely together is noticing how differently they treated the depiction of the status quo of patriarchal white leadership. Oh yeah, I went there!
Golf clap and move on, if this isn't your bag.
So in Snowpiercer we have, surprise, a white male lead being pushed on ahead of a rag-tag band of misfits stuck at the back of a train hurtling through a lifeless environment: the only way to live is to be on the train, but what constitutes "living" is pretty grim. We'll learn later that folks at the back of the train resorted to murdering each other and chopping off each other's limbs and eating them to survive (let's handwave the reality of this. This movie is an allegory – in truth, by the time you're starving enough to start eating each other, you're not going to have a lot of energy left to murder one another. It's far easier to subsist on people already dead. And chopping off limbs with no proper medical care around means many of those folks would die from shock. But that doesn't make for a good body horror film. Hand wave, hand wave we are on a magic train hurtling through an Ice Planet, after all). What these folks resorted to was following the leadership of an old white man, who is grooming another white man to take his place. As we'll learn as we run up through the train, this grooming of Our Hero isn't even just for the folks at the back of the train. The old white guy at the head of the train has, in fact, been grooming him to take over the whole broken, fucked up train system – a perfect microcosm of our own 1% to rule them all society, with clear depictions of all it's broken, brutal ways writ large.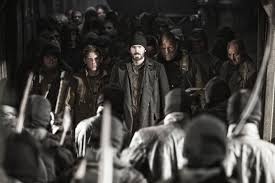 When Our Hero is faced with the choice of taking the helm of the front of the train or blowing it up, he actually hesitates. He hesitates as many of those Groomed White Male Leaders hesitate here in real life, on being confronted with the fact that they are basically now being asked to perpetuate the very system they say they were fighting against. They have become The Man. They are The Problem.
As with Looper, Our Hero accurately susses out that he's the problem, though it takes our clairvoyant secondary heroine to yank up the floor of the train and point to the child now in service to a broken system to convince him to make the choice. Much has been said about Snowpiercer being smart or revolutionary or something, but really, at the end of the day, it's Our Hero who must make the choice between perpetuating the system or blowing it up – the most revolutionary part of this film is that no women are sexually assaulted, and not all the people of color die. Yet it's not the women or people of color on the train who are given the ultimate agency in this film. They can point to it and say it's broken, but he's in the place of power. He has to come to the realization that he's the problem, and end it.
I like Snowpiercer, for all that it was obviously aimed at these white men in power, poking sticks at their discomfort in perpetuating broken systems. I was clear this was not a movie telling me to rise up and smash the system. There are, as ever, two ways to change a system: bloody revolution or changing a system from the inside. For bloody revolution, one doesn'tt need the folks in power to make any decision. We at the bottom don't need to change their minds. But if you want change from the inside, you have to reach these guys. Women who wanted the right to vote? The deciding vote cast that gave women the right to vote in the US was given by a politician who, when asked why he voted to give women the right to vote, said, anecdotally, "Because my mother told me to."
We can push men in power to change things, but at the end of the day, unless that change is blowing up the whole system, as Snowpiercer ultimately does, the power structure itself never changes.
I admired Snowpiercer for blowing up the whole goddamn system. It could have gone with "benevolent ruler." He could have stepped out onto the ice to lead everyone and kept the existing hegemony. It could have been a different story. Instead, he blew it up. And though I certainly would have preferred our secondary heroine or one of the children to get some agency in this matter, I will take my cookies when they're offered.
If I hated everything I'd never watch another piece of media.
This leads us to the ending of Guardians of the Galaxy, which, after an enjoyable romp about misfits and friendship, ended rather hollowly for me. I saw, quite literally, the same exact language used to get Our Hero in Snowpiercer to the front of the train employed again here, and again given to a female character to say: "You need to lead us now/lead us."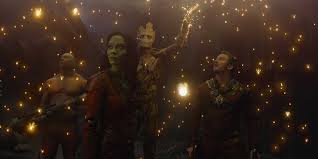 I failed to see anything at all in the course of the two hour movie of mostly fun and explosions that would lead me to believe me our wise-cracking Han-Solo-lite could or should lead anyone at all. In fact, in looking at the entire theme of the film – about friendship, and the power of working together – the "one man to rule us all" conclusion fell seriously flat. You can't take a movie about the power of friendship and shared goals and working together and make it all about upholding the proper order of the universe: Star Lord should always be an ironic flippery, not something that becomes literal. Because if there is only One True Hero then fuck the power of friendship, and why does anyone need to work together? Declaring a One True Hero undermined the whole point of the film, and put all those other characters' stories in service to the hero's story.
It's funny that a whole film can fall apart for me with one line, but after the terribly powerfully syrupy Friendship is Magic moment with Groot ("We Are Groot") that was the emotional heart of the story squeezing your insides, reverting to, "You must lead us now," was a weird whiplash of a moment, a shocking turn about in favor of the old hierarchical system that they were all supposedly living outside. Here they were replicating it again, and putting the Our Hero at center stage again, just like in every other movie, without interrogating, at least (as Snowpiercer did) if that was a good idea or not.
At the end of the day, I'm a little exhausted with One Bloke to Rule Them All films, but seeing these films both so close together made it clear that if I'm going to be forced to see one, I'd like to see one that interrogates this idea instead of telling a big, loud story with heart that turns out to be, in the end, merely a return to the status quo.
(P.S. Lest you think I hate everything, I enjoyed both films for different reasons. But there will be plenty of ink spilled on the good parts of these movies, and in truth, it's the interrogation, or not, of monstrous masculinity here that really interests me. I'm not even going to get into the "whore" thing in GotG)