It's going to be the drunkest con of the year!
I was put on a few panels at Worldcon, which I admit still surprises me.
Compared to my nine or twenty panels at Gencon, this will be a fairly relaxing affair as long as nobody crashes into their own face during the Writing Diverse Characters panel, which folks are weirdly wont to do on this sort of panel, especially at the core SFF cons. I MEAN LOOK AT THE OPENING DESCRIPTION OF THE PANEL MY GOD.
I will try and keep a lid on the mad as best I can as moderator, and try even harder not to be the one who walks into my own face.
Writing Diverse Characters
Thursday 16:00 – 16:45, Spokane Falls Suite A/B (Doubletree)
There was a time when most science fiction writers were geeky white guys with military experience (KAMERON NOTE: NO THERE WAS NOT), so most of their characters tended to be geeky, white guys with military experience…including often the aliens (KAMERON NOTE: NO THE REASON WAS WHITE MALE SUPREMACY).  What are some of the tricks to creating diverse characters? (KAMERON NOTE: THEY MEAN HOW TO WRITE CHARACTERS WHO ARE NOT GEEKY WHITE MEN WITH MILITARY XP MY GOD MY GOD HOW LIMITING IS THAT ONE??). What are some better examples of fiction with diverse, well-written characters? (I THINK WE CAN THINK OF A FEW WHY DID NO ONE ON THE COMMITTEE CATCH THIS ONE THESE ARE NOT TRUE THIIIIIIINGS AND THEY ARE PART OF NARRATIVE OF ERASURE THAT IS THE WHOLE EFFING PROBLEM!!??)
Kameron Hurley (M) , Randy Henderson, Mary Soon Lee , Grá Linnaea , Walidah Imarisha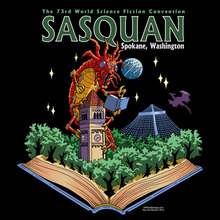 Writing About SF: Yesterday and Today
Friday 11:00 – 11:45, Bays 111A (CC)
From Knight and Blish, through Delany and Le Guin, to the critics of today, SF has had an active (and sometimes contentious) history of criticism.  What is the role of a critic? Who are the great critics, and why?
Gary K. Wolfe (M), David Hartwell , Rich Horton, Michelle Sagara , Kameron Hurley
Self-publishing — How to Market Your Work
Saturday 16:00 – 16:45, 303A (CC)
Your manuscript is done, you've found your printer, uploaded your files, and your book is done. Now how the heck do get people to buy it? Successful self-published authors share their methods.
Sarina Dorie, Doug Farren , Kameron Hurley , Annie Bellet