A lot of what people see of the writing life is actually the part that has nothing to do with writing actual novels. What you see are the blog posts, the tweets, the convention appearances, the book signing, the G+ hangout, the author D&D, the podcast, the workshop… all the stuff we do *around* the writing to draw *attention* to work which has already been written.
I've spent the last three weeks living out loud, with twenty-something guest posts, a manic Twitter pace, giveaways, a convention, and even some grumbling on Facebook. I also got to tell folks about a cool new book deal and a really awesome award nomination.
But none of that is writing novels.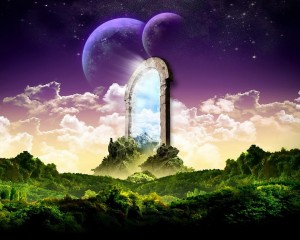 I have an incredibly tight schedule for the second book in my Worldbreaker Saga. You all get to read the first one, THE MIRROR EMPIRE, in September, but come December 31st, I need to turn in another 160k of novel, of which I've only got about 100 pages done. I also have a day job.I have not been on a real date with my spouse in three weeks, and I've been pulling a lot of late nights already. The answer to "how do you manage your schedule?" is that I'm working all the time. Even watching TV, in many cases, has become me studying plot and story structure. I used to get a break by watching reality TV, until I realized it was all scripted, and then I found myself analyzing how they created successful narratives. The story brain, it never turns off. 
At any rate, to hit this year's goals, shit's gonna be tight.
So, I'll be ramping down here a bit until summer, when the convention appearances are happening, and of course, as we lead up to the book launch in September I'll hopefully be all over the place again, as annoying as ever. But for now, right now, I'm hunkering down to write another big book, one that requires me to pull off some really tricky shit I set up in the first book and now actually have to deliver. I do love a good challenge, but it's definitely a challenge.
I get asked a lot how my writing schedule goes, and since I'm under contract and on deadline again, here's basically how it goes. Here's my novel tracking spreadsheet, with daily goals through mid-March: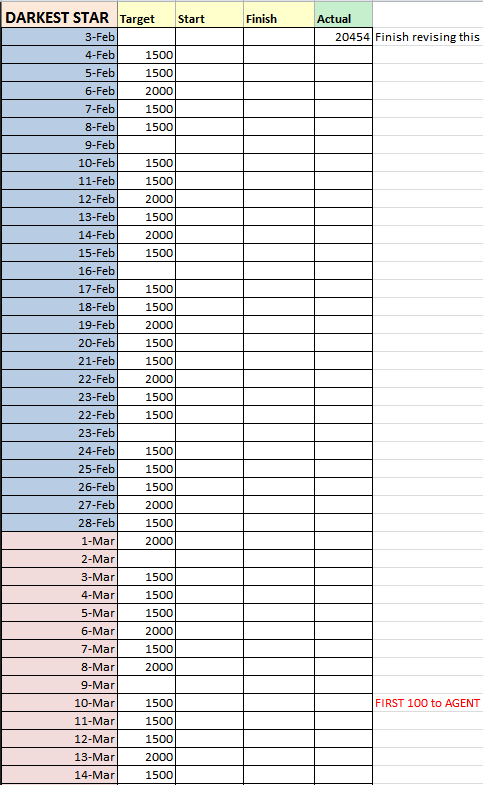 You'll note that this weekend, I'll be revising that 20K that's already done; I started on that process already, but there's more to do, and I want to create a new first chapter/prologue that sets up the central conflict of the book. I'll also be using this weekend to flesh out my existing synopsis, chapter-by-chapter, to make hitting daily word counts easier, and plot the full emotional/plot arcs for each character. I don't usually do this, but because it's a complex book that's twice as long as what I usually write, with twice as many characters, it's become necessary.
Also note I have a date there where I turn in pages for review to my agent. My agent is pretty hands-on, which is not for everyone, but which works for me because it helps to have somebody keep my usually aimless plots on track. I suspect it results in far less rewriting in the end, and richer stories that make a lot more sense. So hooray for that.
Note that these daily word counts are just averages. So I can write more one day and slack a little the next. I write mostly every day when I'm on deadline, but if I can get in a good 5-6k or more day and get ahead, then I'm happy to take a day off. This schedule just keeps me on track to ensure I hit deadline.
Now, what this chart doesn't show is that behind the scenes, I'll also be working with my editor at Angry Robot to revise THE MIRROR EMPIRE, doing copyedits, page proofs, talking maps and covers, and all that admin stuff, as well as putting together a marketing promotion/schedule for September. That is a lot more sort-of-writing and non-writing stuff that I need to get done at the same time, (while keeping up at my day job!) which is why discipline is so important in this biz.
Am certainly looking forward to the rest of this year, but I don't want folks to assume it's all parties and pinatas over here.
It's buckle down and get the fuck to work time.