Spoilers: The hostages get away! The boat sinks! Etc.
When I saw the first trailer for Argo, I guffawed at the implausibility of the entire movie. CIA creates SF movie ruse to smuggle people out of Iran? Whatever, Hollywood. I figured it was just a good excuse for the media to fuel itself up for war with Iran (because we don't have enough wars! And oh, those wacky Arab countries!).
It wasn't until I looked this up on Wikipedia and saw that it was based on a true story that I realized I had to see the film. The sheer audacity of the idea knocked the breath out of me. How had I missed this story in all my reading about Iran? When I found out it'd only been declassified in the 90's, I felt a little better about my ignorance, but only just. I still expected this to be a bit of a propaganda film, full of crazy evil terrorists and noble Americas. But SF film to smuggle out hostages! That was an epic plot, right there, and I had to see how it played out.
In fact, I didn't realize just how much I expected evil-Arab-terrorists until I actually sat down in the theater and realized my whole body was taut and I was clasping my hands tightly, prepared to get through it with some nasty teeth gnashing over the pollution of historic events. There was a reason the Iranian revolution happened. Iranians had every right to be pissed off – we helped out a democratically elected representative and put a fucking tyrant in his place. If Iran had supported the overthrowing of our democratically elected leader, we'd be pretty pissed off at them, too.
But Argo wasn't going to sugar coat why exactly these Americans were in this situation. The opening of the film set out explicitly why the Iranian people were so angry, and gave a good 50 year history of the events leading up to the storming of the embassy. I was incredibly shocked they did this. I wish I could say it didn't shock me, but Hollywood can be so saccharin that I was prepared for the "oh those crazy Arab people" handwave.
Now, let's not pretend this film doesn't have Issues. Our primary characters are all men, and we focus heavily on the arcs for the men's stories – Mendez's wife doesn't even get any lines- and Sahar, oh Sahar! Sahar about broke my heart. And though Iranians are presented as real people with real grievances, things fall apart there toward the end and we get these crazy foolish terrorist stand-ins waving guns and chasing planes (in actual fact, the embassy workers simply walked onto the plane, without all the Hollywood shenanigans at the end. But, yanno, Hollywood needs its suspense. The Arab-terrorists-chasing-planes-waving-guns thing was over the top even for them, tho).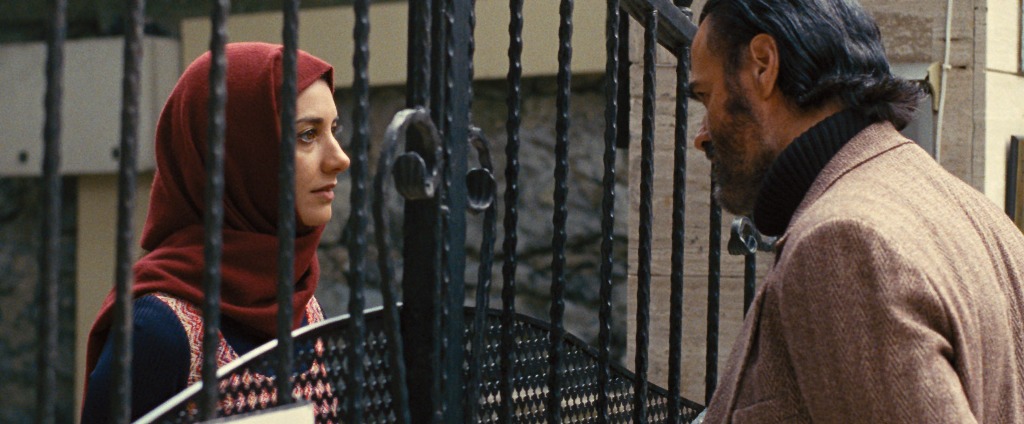 But this film knew what it was about, and had a good handle on the complexity of the situation. It doesn't hurt that it was extraordinarily well-written – sometimes I forget Ben Affleck co-wrote an Academy-winning screenplay. The dialogue was punchy and witty, and again, the sheer craziness of this plan was so crazy that I could almost buy that it worked (I know, I know! It really *did* work! But holy crap, crazy). Affleck also brought a certain sadness and melancholy to this role that I've never seen him display. I usually can't stand him because he comes across as some stupid jock, but I bought him in this role. Like others, I was also disappointed that a Hispanic actor didn't play the part of an actual Hispanic historical figure. If we had a Hispanic guy play, say, Lincoln, can you imagine the shitstorm people would raise? Oh, whitewashing.
There was lots to appreciate in this film, though. I enjoyed how it handled the ineptitude of the CIA. "We're going to deliver them some bicycles and have them bike out of Iran!" (this was a real plan presented at this meeting, in real life as well as this fictionalized version). It reminded me that our respective governments are full of overwhelmed, exhausted, and sometimes deeply stupid people who dig themselves and their people into deep holes without thinking about how the hell they'll get them out. I know a few folks whose parents lived in Iran before the revolution, and mapping their experiences onto the ones presented in the film was interesting. I think it captured a lot of the fear and chaos at the time – and importantly, not just the fear and chaos for Americans, but for the Iranians themselves. Iranians who had to deal with the fallout. Foreigners could leave. But if you were Iranian, well… good luck.
Nothing illustrated this better than Sahar, the housekeeper for the Canadian ambassador, who was the only Iranian we got to know at all. When she keeps the secret of the ambassador's houseguests despite very good reasons to give them up, I thought for sure she was going to get handed a passport and sent to Canada and safety. That would make sense, right? Exile sucks, but you'd help out people who helped you, right?
But Sahar does not get to Canada. Sahar ends the movie heading into Iraq. And if you know anything about history, you know that Iraq and Iran are about to enter a hellish bloody war – a war funded on both sides by the U.S. of A. I do not expect that Sahar's life got infinitely better because she kept her secret and supported Americans. She just got thrown from one shitty situation created by American foreign policy into yet another shitty situation perpetuated by American foreign policy. I have a vivid memory of a relative of mine telling me nonchalantly that they were among the crews that carted weapons over to both Iraq and Iran during the war. They said it was treated as routine on both ends – both by the people who gave them the orders and by the Iranians and Iraqis who signed for the weapons on the other end.
Why does everyone hate Americans? Gee, I wonder. I've talked before about how the Iran/Iraq war was some of the inspiration for the conflict in God's War, and it was that story of my relative's nonchalant gunrunning that made me realize that wars could be perpetuated almost indefiniately by outsiders, and that this was actually a very common occurence.
So at the end of Argo, when everything else is neatly wrapped up, we still had this image of Sahar fleeing into Iraq, this knowledge of a loose thread, a life undone. And though I lamented this loose thread, I realized it was a purposeful one. Because while all of the hostages are eventually brought home, and yay rah-rah America, there's Sahar still out there, displaced, walking into a war that will be perpetuated by the very people she chose to shelter.
At the end of the viewing I went to, the audience burst into a loud round of applause. Here was the heroic story American needed right now, and I felt it too – the idea that America was, in fact, still heroic and clever, even if it had to be heroic and clever because it was stupid and invasive in the first place. And it made me think about Carter, and how everybody hated him as a president because he didn't go to war with Iran. They were angry and upset even though this was the guy who somehow – against all odds – managed to get everyone home safely (Iran-Contra was done under Reagan's watch, not Carter's). In fact, after getting that opening about the history of the U.S.'s involvement in Iranian politics, I remained even more astounded that anyone came home at all.
But those applause made me wonder how many people would actually remember Sahar. Did they remember the opening, and why these people were in trouble in the first place? Did they go out thinking, "Man, America should stop doing stupid things so it doesn't have to create crazy mad movie plots to rescue people"? Like, isn't it weird that the CIA first trained Osama bin Laden and so it's maybe not so heroic when, later, they take him out, since they sort of helped make him in the first place?
Likely, they did not. Likely, most folks went home gleefully saying, "Argo fuck yourself!" and feeling good-hearted about all the heroic missions America's accomplished that we don't know about. And I won't lie, that stuff was gleeful for me too. I loved every bit of the Hollywood scenes, of the make-believe, of the sheer audacity of the plan.
But the film itself, I felt, didn't blindly encourage that rah-rah feeling. The theater of the make-believe film and the theater of the demonstrations and hostage situation are juxtaposed in one very effective scene, and it left me gnawing on a lot more questions than answers. It made me wonder if anything we do makes any sense at all, or if we're just all caught in this endless cycle of reactionary craziness, acts of heroism – like the storming of the embassy (certainly viewed as heroic by some in Iran, cause hey, these people supported a guy who killed and tortured your family) and the rescue of the hostages – both reactionary, both nuts. There are no easy answers. One country's freedom fighter is another's terrorist. It just depends on what side of history you're sitting on. And in fact, it's often our own actions that determine who takes up arms and who doesn't. All those left on the other side of events can do is react to the mess that's left behind.
That night, lying in bed, it was still Sahar and her shattered life I thought about, though. Not terrorists or freedom fighters – not who was intrinsically "right" or "wrong," but the people who had to get up and go on and live in the aftermath of events, of the mess left behind after countries rattle their bloody chessboards.
I hope I wasn't the only one.