The Golden Key is a lush, stand-alone epic fantasy novel I picked up back in the hazy 90's because it was co-written by some of my favorite fantasy authors in my teens: Kate Elliott, Jennifer Roberson, and Melanie Rawn.
This summary from TV Tropes is pretty good, though it forgets some key characters, which I'll get to after the quote:
"(The Golden Key) traces a family of painters who, by nature of their Gifts, can influence events around them. In the Grijalva family, the Gifted males are usually sterile and short-lived; the women, who may be gifted for painting, but not Gifted for the particular type of painting that alters what it portrays, are generally kept within the family to produce children. However, one woman per generation is official mistress to the ruling Duke, so that the family maintains its influence at Court. The story develops when a particularly Gifted and unscrupulous Grijalva painter named Sario finds a way to continue living through successive generations in order to paint a picture worthy of his immense talent. As the political and social climate changes, including revolutions in neighboring countries and democratic challenges to the ruling Dukes, the increasingly conservative Sario seeks to hold onto the past, and especially his first love, whom he has imprisoned in a painting."
The character not mentioned by name in this summary is Saavedra (positioned here as "the love interest" but a woman with a story in her own right), who is actually positioned as the heroine for the first third of the book, at least., and who I'd like to have had around a good deal longer.
The setting is a sort of alternative Moorish Spain (that's southern Spain, for those unfamiliar with the term), and the painting magic was memorable for me because it involved mixing one's bodily fluids with the paint to engineer particular effects on the real world and real world events: blood, saliva, tears, and well… "essence." You know.
This was one of those great fantasy novels that's heavy on politics and intrigue as well as interesting magic. The setting was astonishing, too – I felt like I could step through the pages and just… be transported there.
Plenty 0f backstabbing, double-crosses, and time jumping.
The book has a new paperback cover, but I still own the far superior Whalen hardcover, which is very good at telling you precisely the story you're getting.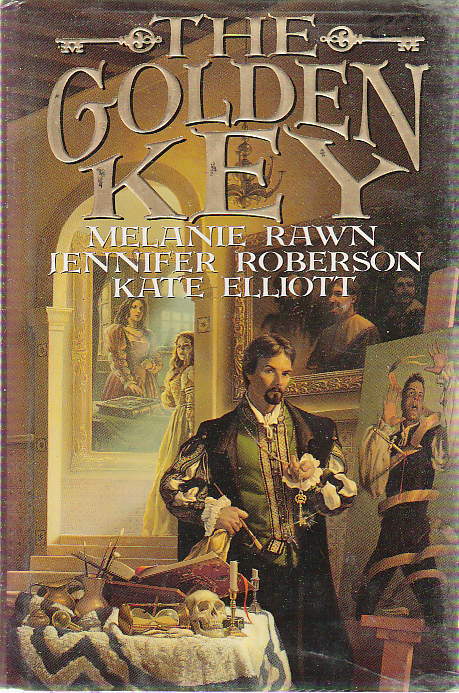 Recommended.