I've spent this week in "aggressive self-care" mode. I took the week off the day job and spent the first three or four days of it just reading in the hammock and sleeping. I'm off booze through at least the end of the year, and limiting myself to two cups of coffee in the morning, which has really reined in my anxiety. I had two days of rolling panic attacks – convinced I was dying of one thing or another – and let me tell you: that level of anxiety, for that long, is fucking EXHAUSTING.
It was bad enough to make me realize I needed to make some drastic changes in how I've been coping the last 18 months. I've known this for awhile, but two days thinking I was dying finally pushed me over the edge.
Like the rest of the world right now, I've been burned out and anxious. COVID-supply-chain-dem-implosion-unvax-delta-busy-jobs-stress-pileup-holidays-coming etc. I live in the world, and am not immune to its many charms. Combine this with existing issues, and something needed to budge.
That aside, the weather has been glorious here as we get hip-deep into the fall season. I knocked out a few thousand more words on LOSING GRAVITY, and am still hoping to finish that by the December 15th deadline (hope springs eternal!). We'll see how that aforementioned Global Stress goes.
For the most part, I do avoid social media stressors. I read the NYT Daily Briefing, and mostly follow science and gardening accounts on Twitter. But the stress creeps in, regardless. When you are cancelling trips and pacing the four walls of your garden again, looking ahead to another COVID-winter, you can't help but feel the Gloom.
But it is a gloom alleviated by the knowledge that I am STILL ALIVE, and lucky to have what I do during this time of global upheaval.
I've been reading a couple of nonfiction books that have helped me process some of this stress and the unhealthy ways I have been enduring it. Dopamine Nation offers a look at how our ever-connected, always-on world drives addiction, and includes some ways to mitigate this tempting rush in all its forms. This one had an especially resonant passage, for me, that challenged how I've been dealing with the world the last 18 months:
"I urge you to find a way to immerse yourself fully in the life that you've been given. To stop running from whatever you're trying to escape, and instead to stop, to turn, and face whatever it is."
Damn.
The Molecule of More delves even more deeply into how dopamine has us always seeking more – it's the drug that causes us to pursue what is always just out of reach. This can be great for goal-setting, but bad for letting oneself enjoy the "now." As ever, I don't wholly agree or endorse everything in either book, but I found both gave me a lot to think about In These Times.
In other good news: it's nearly flower bulb season! I look forward to restraining myself to just… oh, maybe 1,000 flower bulbs this year.
On y va!
Fresh Fiction
This month's fresh fiction is "The Unraveling," about a city that is coming apart. The grease is falling off the wheels. As it all begins to unravel, a woman descends from her garret in search of a snack and a drink – and gets a horrifying truth instead.
Grimdark Magazine Reprints "The Tomb of the Flesh Dealer"
For those who aren't members of Hurley's Heroes on Patreon, I have a Nyx story up over at Grimdark Magazine, "The Tomb of the Flesh Dealer."
It starts about how you'd think, for a Nyx story:
And finally, some updates from Around the Garden: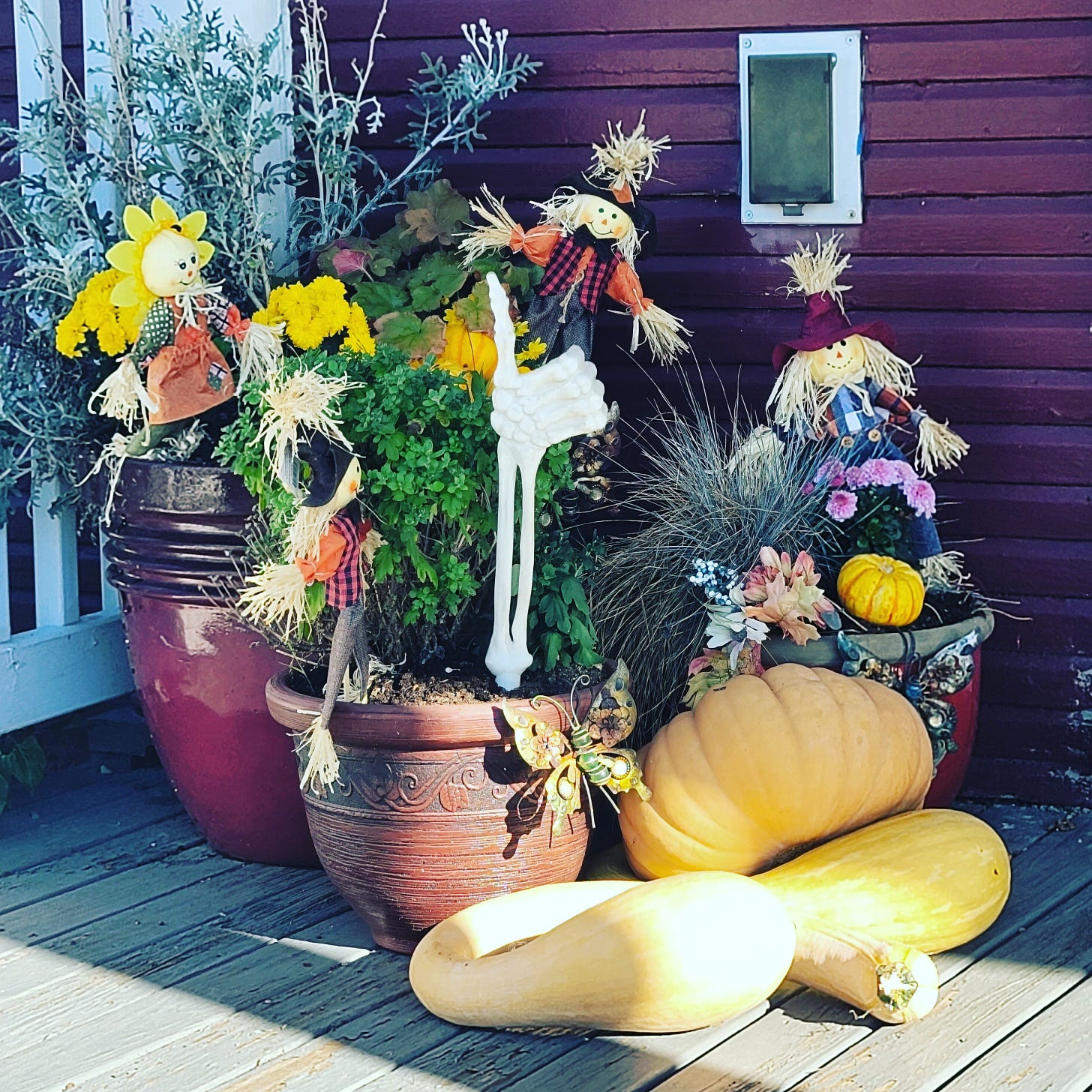 May you have a cozily spooky October.