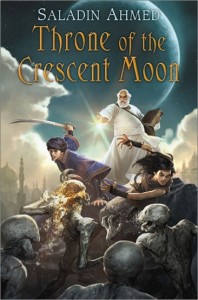 Remember your favorite Sword and Sorcery novel? Disappointed when you went back, ten or fifteen years after you read it, and realized the writing kind of sucked and it was pretty sexist and racist? Did you wonder, then, why it was nobody was creating less crappy S&S these days?
Well, maybe you didn't. But I sure did.
That's why I was pretty stoked to read Saladin Ahmed's Throne of the Crescent Moon, a solidly S&S novel complete with ghuls, dervishes, shape shifters, monster hunters, and swordfights. If, like me, it's been a while since you read S&S, you may mourn at the appearance of the novel's length and scope – right up until you remember that that's exactly what you used to like about those slim little hack n' slash novels you picked up at the used bookstore.
Throne of the Crescent Moon follows Adoulla, an aging ghul hunter and his fighting dervish apprentice as they uncover a nefarious plot cooked up by a big, bad sorcerer type that could result in the bloody ruin of their city.
The worldbuilding is strong and lovely, and the book clips along nicely after the initial few pages of introductory dialog. There are plenty of things to love about this book: the strong writing, worldbuilding, clippy plot, easy reading length, monster fighting, but what I loved most was the characters. It was like stumbling upon your favorite street rascal-turned-monster-hunter forty years after the events of the book that gave you his origin story. I see a lot of origin stories in epic fantasy in particular (as opposed to S&S which always has a more mature type of warrior), which means that we often find ourselves reading about characters with fairly blank pasts. They're all sixteen or eighteen, without parents or even siblings, no children, no real love in their lives beyond the first crush, and they're… well, they're relatively still naïve and hopeful about life.
And yanno, you read about enough of these folks, and they can be kind of boring.
This is the story about the guy who went through all that hell and is moving toward retirement. It means he has a far more complex past, a far different view on life and what's important, and best of all – a lot of stories. One of the most delightful parts of the book was getting these hints about all of his other adventures. "Remember that time when…" stuff that I found more hilarious than I probably should have.
Adoulla, unlike his young dervish apprentice, understands that politicians are often corrupt, and morality can run gray at times. Being forced to make uncomfortable choices that may trouble our sense of right and wrong is a big part of growing up, and watching a kid stumble through that through Adoulla's eyes was something I haven't often seen in this type of fiction either. Everybody here (except maybe the Big Bad) is a fully fleshed out character with Issues, including the excellent female characters. One of the benefits of fully fleshing out all of the characters is that it means the women don't suck either. You will love them all.
I loved how the two younger characters – the ones that the epic fantasy stories are traditionally about – are seen treading the same sorry path that Adoulla and his own sweetheart tread (only a little tragically) much earlier in their lives. Oh, young people, you are so… young. The parallels are great.
If you're a fan of character-driven sword and sorcery with monster fights and mayhem and bustling cities you can get lost in, this is a book for you.