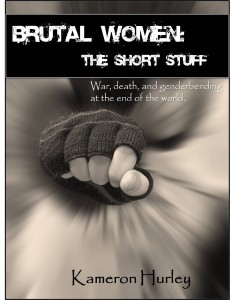 You have to wait until January 18th to snag your copy of God's War, but to tide you over until then, I've put together a free 150-odd page collection of my short fiction from 1997 to present (yeah, I've never been a prolific short story writer). You can download a free PDF here (scribd. Recommended) or here (smashwords. Formatting on this platform is wonky, but readable).
If you're a Kindle lover, you will, unfortunately, need to pay .99 cents for the same free PDF formatted for your big-corp device. They apparently don't let you create them for free as yet. You can download a Kindle copy here.
This collection includes fan favorite, "The Women of Our Occupation" about a mysterious group of women who invade a steamy patriarchy, and "Wonder Maul Doll," an angry anti-war screed about a traumatized group of female war heroes hunting down weapons of mass destruction.
Three Super! Special! Bonus! stories are included – stories that were never published. This includes, "Women and Ladies, Blood and Sand" about a military leader who aligns herself with the bad guys and starts hunting down her own people, "In Freedom, Dying" about a couple of old queers and the end of the world, and "Canticle of the Flesh," the creepiest, weirdest, most distasteful story I've ever written.
I mean, c'mon, what other collection of horrific, bloodthirsty, feministy nonsense would make more sense to gift to friends and family for the holidays?
Also, did I mention it's free?