So a lot of you know it's been a long slog for me to stay in the publishing game, and THE MIRROR EMPIRE was a new opportunity for me to get back into the game. This book was almost not published either, but the folks at Angry Robot took a chance on it, and gave it a great cover, a great edit, and great marketing support, especially for a publisher of their size.
I've also been working relentlessly to both improve and promote this book, and have been scheduling promotional stuff since April and delivering on it since July, with the bulk of it happening here at the end of August/early September. I've had an incredible amount of support from fans and colleagues – some of whom even read and liked the book! – and, you know… sometimes you bang your head against the publishing wall for so, so long that banging your head against it without result kind of becomes your expectation for the way things work, so it's really, really weird when… something moves.
Yesterday, we got first week sales in for THE MIRROR EMPIRE, and I've learned that it's – if not the BEST first week in US/CA sales that any Angry Robot title has ever had, then it's at least "in the top 5" of best release weeks.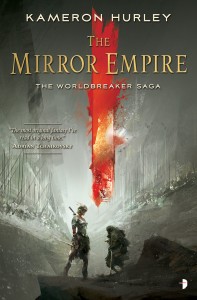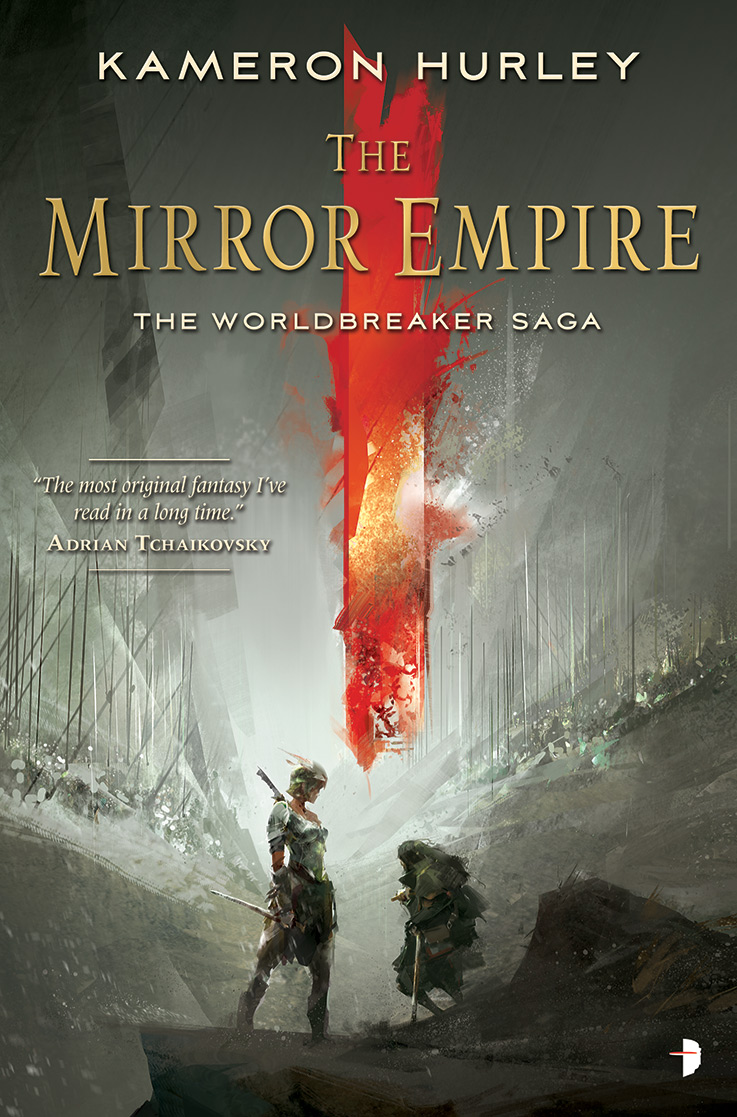 The first round of initial numbers was what I'd hoped against hope for, and the final was 50% more than that. I kind of just wandered around after hearing it, not sure what to do with myself. Barnes and Noble has already placed another order, and Ingram has placed two more. So that B&N promo? Also working. And I'll note that Angry Robot's support of that promotion is the only reason we were able to do it – not every publisher would.
Now, these are not, obviously, big heavy hitter numbers or anything like that to rival the folks getting front table B&N placement, but they are pretty astonishing numbers for a mid-sized press book from somebody who's last book made Bookscan cry. And about 70% of the copies sold were in ebook (Angry Robot's ebooks are priced very competitively), which is not, alas, going to show up on Bookscan. BUT! *I* will know. And my publisher will know.
It's telling how grim I've become, though, that after reading those numbers I was like, "Oh God! What if we only sell 5 copies during week two? What if we can't maintain momentum? I need to get back to work…"
There's no rest for the wicked, it seems.
Thanks to everyone for supporting the book during its release week. Do please keep sharing it, telling people about it, discussing it, and squeeing over it. There's a lot of magic and mystery that goes into selling books, and it's yet to be seen if first week sales were some mad fluke or an actual turn for the better. I'm super grateful for your support.
In the meantime, if you've read the book, thought about reading the book, or have any questions for me, you're in luck! My Reddit AMA (Ask Me Anything) is live today (9/4), and I'll be answering question starting at 7pm CT/8pm EST.