It's the Netflix original series with the most catchy theme song around, and the most unapologetically feminist comedy series I've seen since… I don't even know when.
I would like to tell you that the backlash is officially getting pushback here in 2015, with shows like this sneaking onto the air, but let's be real about how The Unbreakable Kimmy Schmidt finally saw daylight. Tina Fey is co-helming this one, and NBC ordered a bunch of episodes initially, but when they got the final product, they balked. Like The Middle Man, The Unbreakable Kimmy Schmidt is a weird, quirky show that really has no business being on a Big Four network, alas. What makes The Big Bang Theory OK is that it actually makes fun of nerds and plays into nerd stereotypes.
But the Unbreakable Kimmy Schmidt tells you to go fuck yourself, and you laugh along with it.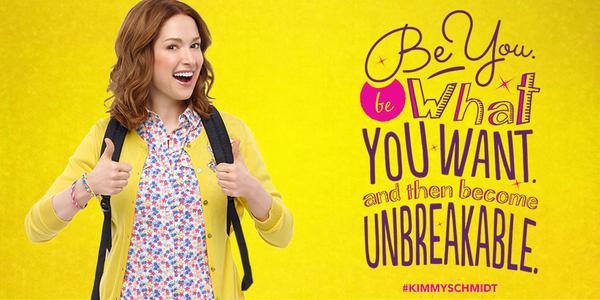 Unbreakable is about three teen women and one thirty-something woman who were kidnapped and held in an underground bunker for fifteen years by a madman (a literal Mad Man, played by our friend Jon Hamm). They are eventually rescued in the here and now, and featured in a mad media blitz. Called "Mole Women" by the media, they are invited to New York City to be on a talk show where they are treated in about the way you'd expect, even giving one woman a "surprise" makeover because of course, that's how you can prove that you've fixed someone's life, with a haircut and some makeup. The titular Kimmy Schmidt, on the ride back to the airport, decides she isn't going back to live the rest of her life in small town Indiana after living in a bunker for 15 years, and jumps out of the van and decides to try and make her living in New York. It had been her dream, back in the bunker, to get her education and see the world, and she didn't feel she'd be able to do that in Indiana where everyone would know her as a Mole Woman.
The entire concept of the show is pretty ridiculous, right? When my husband pitched this show to me, I looked at him with my Dubious Face, because I've seen a lot of what passes for comedy on TV these days, and it's all How I Met Your Mother and Big Bang Theory, which feel so scripted lowest common denominator funny that I just get bored. I tend to like British comedy better because it can be far more absurd, and most importantly – dark. The comedy Absolutely Fabulous was one of my favorites, about two older women who selfishly booze away their lives while the nerdy daughter of one of them tries to deal with having a ridiculous, fucked-up home life while building her own future. My mom loved this show too, and more than a few times said, "I know you really like this show because you totally identify with the daughter, and I'm totally like her mother." And I just smiled and nodded and then we settled in to laugh. Because that's how we deal with the darkness of life – we laugh at it.
This is what Unbreakable gets so, so right, and it's the laughing in the face of darkness that hooked me from the first episode. This absurd situation this girl finds herself in isn't all that absurd, really – it's not far from where I live where two brothers kidnapped young women and held them in their house for ten years as slaves. Yeah. This is something that actually happens. It's not absurdist in the least. And on a grander scale, women living under the boot of men, of men's ideas of them, enslaved by men's fantasies of what they should be, happens at one point or another to nearly every woman in our society. We deal with it in our relationships, in the workplace, walking down the street.
I knew the show had me when Kimmy is getting ready to get on a bus to go back to Indiana in the first episode, feeling life in New York is just impossible for her. She has no skills, no job, all her references and technical knowledge are out of date, and she decides to give in and go back and live the way people expect her to. It's at this point that she sees a rat in the trash can, and she flashes back to the bunker where she is holding up a rat in front of the Reverend who kidnapped them and tried to convince them the world had
ended and he kept them locked up for their own protection, and says to him that if what he's saying is true, and the world has ended and everything was dead, then how did this rat get into the air duct? And he says, "Dammit, Kimmy I WILL break you," and she says, very simply, "No you won't."
Folks who have been following this blog a long time know that it's not been easy for me to get to this point in my life. I spent three years trying to untangle myself from an abusive relationship in high school. I ran away to Alaska. I lived in South Africa. I got a chronic illness that means I'm just one missed shot of synthetic drugs away from dying every day. I ended up laid off, homeless, and unemployed in 2007, living in a friend's spare bedroom in Ohio and trying to shovel myself out of extreme medical debt while I lived on expired drugs and scraped by on temp jobs that barely had me keeping my head above water, paying minimum payments on the credit cards I was using to buy my meds and food while deferring and deferring and deferring student loan payments.
There are a lot of opportunities for a person to break, in there. A lot. A LOT. There are times you want to give up writing, give up life, pack it all in. But you keep going because there is something inside of you that will not be broken, that will not go back to live the life everyone says you should accept. You go on no matter how bad things are, because the alternative is so much worse.
And here's the thing about shows like this, and why they exist, because here you are watching this ostensibly funny show about someone who has been through something so vastly worse ("I know what you're going to ask," Kimmy bubbles off at one point, "was there weird sexual stuff in the bunker? Well, yeah," and "we still haven't figured out why you're afraid of Velcro" and how she attacks anyone who comes up behind her and grabs her, reflexively), and you sit there and you go, "Yeah, you know, sometimes life is hard. But here is someone who has been through far worse, and they persevere, and they thrive, and they go on. And if they can, I can too." That's the magic of stories, there. The magic of comedy is positioning it in such a way that you can laugh at that darkness, too.
The show has missteps, of course. For all its feminist sensibilities, smartly giving us recurring women characters who are 15, 30, 43 and 60+ in the same show (I admit I can't watch a lot of shows exclusively about teenagers anymore; as I get older, I want to see, more and more, characters who are tackling the same problems I am), it falls down a lot on race.
There are some great, insightful things, yes: there's a powerful episode about Kimmy's best friend and roommate, Titus, who finds that when he dresses up as a werewolf for a gig that he's treated far better by strangers as a werewolf than he ever was as a black man. There's Carol Kane playing an older white liberal hippie who purports to be an ally at every turn while saying the most racist things in the show; a searing skewering of white allies. But then there's the bizarre subplot for Kimmy's employer, who is played by a white woman but purportedly from a Native American family, a family portrayed in one of the most stereotypical ways imaginable, and has her howling like a wolf at the end to get back her power? Yeah, just squint and say la-la-la through all that. Dong, a Vietnamese immigrant, starts out promising and then quickly regresses to an amalgam of Asian Guy Stereotypes as things progress. I actually winced in sympathy for the actor who had to play him, it was so bad. I have hope that these will improve as fans point out where these fall down. There's also a weird awareness of the Hispanic characters in the story without actually… telling their stories, if that makes sense. "Isn't it funny we are ignoring the stories of the Hispanic characters just like the media and their employers do!" is the same True Detective problem of "See us showing all this misogyny while being misogynist." The writers did such a great job making the primary characters complex and well-rounded that the Stereotype Brigade in the background grates all the more. Fingers crossed they fix this, as the show's been approved for a second season.
If you can squint through the grating parts, The Unbreakable Kimmy Schmidt is a show with a lot of promise and a lot to say about current media culture, the class divide, and the struggles of being who you are in a world that wants to label you with just one narrative (hopefully for ALL the characters, going forward).
The supporting cast here is fabulous, too, with Tituss Burgess playing a man from Mississippi who came to New York to pursues his dreams, and has since been ground down by the odds of achieving those dreams. Jane Krakowski is the rich housewife you love to hate, who delivers all the ridiculous privilege of the 1% without a filter. And Carol Kane is your favorite matronly slumlord. Jon Hamm's performance as the charismatic Reverend who convinces everyone that he's right because he's handsome and ridiculous will both delight and chill you.
Highly recommended.