I was cleaning out some old files and papers this weekend, packing things up to get archived over at Northern Illinois University, and as one does when one goes through old photos and letters and emails, I reminisced about times past, about what could have been, about other lives led.
I have been working with my head down, blinders on, since 2011, when GOD'S WAR came out and, a few months later, I increased my salary 30% by switching to a new job. The job paid more, but was more stressful, with rolling layoffs every six months. There was no illusion of job stability, and the rolling layoffs had a lot of people suffering from PTSD. Even the slightest setback or disagreement set people off, and navigating that minefield is, in itself, stressful. Taking the job also meant I no longer biked to work every day, which eliminated a vital part of my exercise routine. I got wider and weaker, and the stress of both the day job and the increasingly stressful and demanding novel-writing career has layered up on me, calcifying like some shit in your arteries that's just building you up toward a heart attack.
The last year, with some new book deals on the horizon, it looked like I was finally going to be able to get out of Ohio, possibly, and start building a new sort of life, without the allergies and massive distance from friends and family. I'm fairly isolated out here since the friends who initially put me up after I was laid off in Chicago were able to move back to Oregon last year, leaving me and my spouse here in a cheap but impossible to sell house. The fight to get back to Oregon myself is ongoing, and wearying, as it involves a whole lot of things going right with both my novels and my day job, which I'd like to keep, and a very strict budget that has me grumbling quite often.
The head-down work I've been doing means the last three years have been mostly a blur, and now I'm looking around and it looks like I'll be 35 in a few months, and I realize that I need a massive course correct here, because if shit continues like it has the last three years, I'm going to write myself straight into cardiac arrest.  I say that while looking at my incredible writing schedule next year, which involves turning in a book in February, editing it in March-April, four conventions during the summer, promoting the book Aug-Oct, and turning in a second book in October. All this while holding down the day job that pays the bills and socking money away toward debt.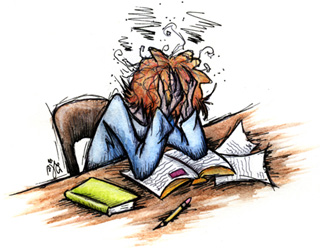 Sometimes it's fun to look at other lives while you're doing this, and I couldn't help but remember the kind of life I was going to have before Clarion, the one where I was going to just hang out in Alaska for the next eighty years, getting some job at the university and just living out there in the cold and the dark. Of course, I'm not fool enough to think I wouldn't be in the same place right now – if I was out there, I'd be thinking about what kind of life I could have had if I ever left Alaska.
The grass is always greener, etc. So goes middle age.
But whatever ends up happening, what I do know is that the status quo is not going to work here on the other side of my 30's. The life I've built the last three years is, by many measures, super successful. I have a house I can afford even if I lose my primary job, and if things all line up, next year will be the first year I clear six figures (combining income from all my jobs). For someone who was pretty much homeless in 2007, with enough credit card and student loan debt to kill a horse, that's a pretty big milestone for me, and one I've been hoping to hit for some time. I have a fabulous spouse who is supportive and great in every way that's right for me, and that's nothing to poo-poo about. That doesn't happen for everyone.
Yet it's been clear these last three years that I need some kind of change, and soon, and waiting much more than another year or two might be the end of me. So I need to figure it out. I've spent the last few months enjoying long hikes at the local metroparks, which has helped fulfill my need for wide open spaces the way living in Alaska did, and has gotten me out from behind my computer, to boot. But it's true that I miss those freewheeling college days, where I could work out two hours a day in the gym and go biking around town all weekend long, and all that juicy student loan money was years away from being a concern. I owned nothing and owed no one.
I often suspect that this nostalgia for a place, or a life, isn't about any of those things, it's nostalgia for a very specific time in one's life, a time one never gets back, when all the doors are open, all things are possible, and you still believe your first novel will get you that million dollar advance and you can get that cabin on 40 acres without joining the Big Brother machine and selling your soul to it.
All things are still possible, of course. But doors start to close – I've got a chronic illness now, I've chosen not to have children, I've found the best partner for me, I've invested time and energy into my writing career and established myself as a particular type of writer with particular types of goals. I have the house and cars and the Things, which are all nice, but to get them, to earn the life I really wanted, has taken a terrible toll on me, and if I'm going to survive it the next three years, something vital has to change.
What that is, and how I'll achieve it, I'm still, as yet, uncertain. But the time is coming. It's mowing me down.
Tick tock.